March 5, 2015, 4:30pm
Ultra-Orthodox rabbis pack Shea Stadium to condemn the internet in 2012 / Josh Nathan-Kazis
A Forward tipster texted us this morning to report an odd spam message he'd received on his phone. Sent from a Spanish phone number, the spam read: "Check out WhatsApp Messenger for your smartphone. Hasidic friendly! Download it today…"
Last year, I reported that the ultra-Orthodox had gone wild over WhatsApp, a messaging app purchased by Facebook for $19 billlion.
"I'm sick and tired of it a little bit," Lipa Schmeltzer, the Hasidic pop music star, told me at the time. "It's not an easy task, to keep up with all these messages."
Now, it seems like WhatsApp itself is catching up to its ultra-Orthodox appeal. The company does not list a press contact on its website, and the Forward has not yet been able to confirm that the ad was actually sent by WhatsApp itself. The download link, however, is genuine.
The ad is phrased oddly, which perhaps should not be surprising for a spam text message. The "Hasidic friendly!" boast uses the adjective "Hasidic" as a noun, suggesting limited familiarity with the term's usage.
WhatsApp's appeal for the ultra-Orthodox lay in how it allowed users to get around communal bans on unfettered internet. The service's group text functions are used as a sort of closed social network by Hasidic Jews.
As early as January 2014, however, rabbis were cracking down on the service. A Satmar newspaper in Brooklyn ran a headline that month warning: "The rabbis overseeing divorces say WhatsApp is the No. 1 cause of destruction of Jewish homes and business."
The next month, a filtering service affiliated with Satmar blocked photo and video sent through WhatsApp.
March 5, 2015, 1:00pm
A Muslim girl blows bubbles at an Eid celebration / Getty Images
All across New York City, Muslims are cheering Mayor Bill de Blasio's decision to close public schools on the two holiest days of their religious calendar. And Jews should be cheering right along with them.
Why should we be happy to see the city observe Eid al-Fitr and Eid al-Adha, days that commemorate the end of Ramadan and the biblical Abraham's willingness to sacrifice his son, respectively? No, it's not because that means we Jews will also get a hall pass. It's because we fought and won this battle long ago — and our win should be used to help, not harm, others in a similar situation.
New York City public schools decided to observe two of our holidays, Rosh Hashanah and Yom Kippur, way back in 1960. That means that we've been enjoying the benefits of this recognition for a full 55 years.
If you're wondering why recognition for Muslims has lagged so far behind, your first thought might be: Islamophobia. And you'd be right. Discrimination against Muslims is a powerful force in post-9/11 America — especially now that terrorism wrought by Islamic extremists in the Middle East and Europe dominates the headlines. That discrimination has a powerful impact on our policies, and it's been fueling the protests against de Blasio's plan to recognize Muslim holidays for months.
March 4, 2015, 1:40pm
When Benjamin Netanyahu spoke to Congress about the dangers of a nuclear Iran, he couldn't resist drawing a parallel to that other time Jews were threatened by a "Persian potentate." (Extra points for vocab, Bibi!)
We, in turn, couldn't resist imagining the entire Purim story recast in Bibi terms.
Before the fun, the facts. Here's a refresher on what the Israeli prime minister said:
In our nearly 4,000 years of history, many have tried repeatedly to destroy the Jewish people. Tomorrow night, on the Jewish holiday of Purim, we'll read the Book of Esther. We'll read of a powerful Persian viceroy named Haman, who plotted to destroy the Jewish people some 2,500 years ago. But a courageous Jewish woman, Queen Esther, exposed the plot and gave for the Jewish people the right to defend themselves against their enemies. The plot was foiled. Our people were saved.

Today the Jewish people face another attempt by yet another Persian potentate to destroy us. Iran's Supreme Leader Ayatollah Khamenei spews the oldest hatred, the oldest hatred of anti-Semitism with the newest technology. He tweets that Israel must be annihilated — he tweets!
And now, we hope you enjoy these humble e-cards. Click on each one individually to share with your friends and spread the holiday cheer!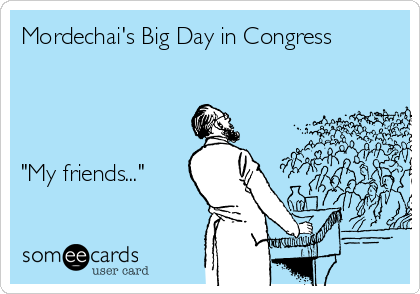 February 26, 2015, 11:40am
Getty Images
In an article originally titled "Why Every Jewish Man, Woman, and Child in Europe Should Get a Gun," Liel Leibovitz claims that European Jews need guns because they can't trust their governments to protect them from anti-Semitic "savages."
Leibovitz chides those trusting in "reasonable measures," arguing instead that, "European Jews with guns can make a difference." Kudos for correctly identifying guns as the opposite of reasonable measures — but every other element of this claim bears debunking.
"In Europe, Jews are seen at best as a foreign element exercising undue influence," Leibovitz claims. Really? "At best"? He then contradictorily cites French Prime Minister Manuel Valls as genuinely caring about Jews — before slamming him for not doing enough for their security.
February 23, 2015, 1:30pm
Josh and Mark on the day of their commitment ceremony / Danielle Perelman
On a recent Sunday night, I did something that in the past I never thought I would do.
Nine years ago, I voted "no" on the most well-known Conservative Movement responsum on homosexuality, the Dorff-Nevins-Reisner teshuvah on "Homosexuality, Human Dignity and Halakhah." At the time, I would not have envisioned myself — this past week, or ever — officiating at a same-sex commitment ceremony. How I ended up doing just that is, I believe, reflective of the great strengths of the Rabbinical Assembly and of our Conservative movement.
About a year ago, two young lawyers, Josh and Mark, requested that I officiate at their commitment ceremony. It was not something that I had ever been asked to do previously, so I had not given the possibility much thought, even though my 2006 vote would have suggested my declining the request.
But that was before I met with the two young men, both of whom impressed me deeply with their senses of humor and personal warmth, their depth of Jewish learning and commitment. Both coming from Conservative backgrounds, they wanted a kosher simcha, a ceremony held in a synagogue (contrary to today's overwhelming trend of hotel and wedding-hall venues), and a commitment ceremony such as those they had already found on the Rabbinical Assembly website.
After meeting with these two men, I knew I wanted to say yes. With the support of my leadership, I agreed to the ceremony, recognizing that my theoretical opposition to such an event a decade earlier had melted once confronted by two real live human beings who loved each other, and similarly cherished every aspect of their Jewish identities.
I told them that it would not be a marriage service, would not include the classic sheva berakhot, and would not use a standard ketubah, all of which accorded with their wishes as well. They wanted to work as closely as possible within the confines of a halakhic environment, in other words, to be groundbreaking while holding sacred the Jewish legal framework of the Conservative movement in which they had been raised.
Then came the ceremony with 300 people, representing a cross-section of the community, the vast majority heterosexual, the vast majority Jewish, including a significant number of young Modern Orthodox Jews who danced with the joy and enthusiasm seen most often at frum weddings. I would not have imagined, nine years ago, when I voted against the Dorff-Nevins-Reisner teshuvah, that I would come to view this ceremony as one of the true spiritual highlights of my rabbinic career.
February 17, 2015, 12:09pm
An Israeli journalist who walked around Paris for hours while wearing a kippah to test attitudes to Jews documented multiple threats and insults hurled at his direction.
Zvika Klein, a reporter for the news site nrg.co.il and the Makor Rishon daily, on Sunday released the footage from his excursion last week around Paris and its suburbs. He was inspired by a video released last year that shows Shoshana Roberts being sexually harassed repeatedly while walking in New York. Since it was published on YouTube, her video has registered more than 39 million views.
Many anti-Semitic incidents occurred in the heavily Muslim suburb of Sarcelles, Klein told JTA last week, while Paris' center was considerably calmer by comparison.
In one scene, a person wearing a black knit cap says "Jew" and walks alongside Klein, who was being filmed secretly by a colleague. In two separate incidents, one involving a man and one a woman, passers-by look in Klein's direction as he walks past them.
February 16, 2015, 5:00am
Photo from "Crazy Jewish Mom" on Instagram
I have a Jewish mom. You have a Jewish mom. Heck, I am a Jewish mom. And I might be crazy. But it's not because I'm Jewish.
Last November, Kate Siegel decided to create an Instagram account called "Crazy Jewish Mom" in order to share private iMessages from her mother. She'd been sharing them with her friends, who found them funny, so she decided to take them to the internet. Now she has more than 370,000 followers.
"Happy birthday Spawn. Welcome to the wrong side of 25. The expiration date on your eggs is officially in sight. Tick tock."
"Kate I sat next to the nicest young man at Starbucks today. Yale. Lawyer. I showed him your Facebook picture and gave him your number."
"I'm at bloomingdales and am buying you a gorgeous black Theory dress. I don't know if a size two will fit you right now (maybe not based on the most recent pic you sent me) but thats (sic) the size i'm buying for you."
Kate's mom sends dozens of messages, sometimes that many in a single day, to her daughter — and sites all over the world have been commenting on it. In almost every case, these articles regard the outrageous texts as nothing more than humorous banter.
But something about this just doesn't sit right with me. And I can't keep quiet about it any longer.
February 15, 2015, 3:30pm
Je Suis Copenhagen meme via Twitter
The worst part of this weekend's horrifying terrorist attack in Copenhagen is, of course, that it happened at all, and resulted in the deaths of a young man guarding a synagogue and a film director attending a free-speech event.
The second-worst part is that there is no reason it won't happen again.
While, as of this writing, Danish police have not conclusively established motive, it is fair to suppose that it is a copycat of the Charlie Hebdo murders and their bloody postscript at a kosher market in Paris. If true, the new pattern has been established: you can get murdered for drawing a cartoon, or for being Jewish.
These new attacks, as well as the whole, hideous trend of anti-Jewish violence in Europe, complicate the distinctions we usually make between anti-Zionism and anti-Semitism.
On the one hand, there are clearly anti-Zionist and anti-Israel motives at play. Islamists see themselves as being at war with America and Israel, and these acts are part of that jihad. In this form of Islamic extremism, there is no clear distinction between the political and the religious.
On the other hand, these are also anti-Semitic attacks, carried out against Jewish civilians in Jewish spaces. All Jews, simply by the condition of being Jewish, are held culpable for the acts of (or existence of) the Jewish state. Even without the presence of additional anti-Semitic stereotypes, this collective guilt is, itself, enough.
February 4, 2015, 12:21pm
A Jewish doctor in Arizona has become the unapologetic face of the anti-vaccine movement. In an interview with CNN, Dr. Jack Wolfson said he wouldn't mind if his un-vaccinated child got another child sick.
"I'm not going to sacrifice the well-being of my child. My child is pure," the cardiologist said. "It's an unfortunate thing that people die, but people die. And I'm not going to put my child at risk to save another child."
Wolfson has given multiple interviews in recent days defending his decision not to vaccinate his own children, recommending that others not vaccinate their kids, and condemning parents who had allowed their children to be vaccinated.
Interest in the issue has grown following a measles outbreak at Disneyland in California that has been attributed to families that refused vaccinations for their children.
January 30, 2015, 5:09am
Alan Gross basks in applause at the State of the Union address./Getty Images
If you didn't know anything about Alan Gross other than what you saw on television, you probably thought it was right for him to sit next to first lady Michelle Obama as guest of honor at this year's State of the Union address. His presence marked the dramatic shifts taking place in U.S.-Cuba relations, shifts that Fidel Castro said Tuesday were good for both countries.
"We will always defend cooperation and friendship with all the people of the world, including with our political adversaries," he wrote in a letter to a student group in Cuba.
In December, television news reporting told the story of Gross as a humanitarian unjustly jailed in 2009 by a repressive Communist regime for the crime of bringing Internet access to Cuba's small Jewish community. His release from prison in December was part of President Obama's plan to normalize diplomatic relations with Cuba after half a century of regime-change policy in the United States.
This TV news narrative had bipartisan support. In announcing his administration's shift in Cuba policy, Obama said Gross "was arrested by Cuban authorities for simply helping ordinary Cubans." Marco Rubio, the anti-communist Republican senator from Florida, said Gross was innocent of all charges against him and that he'd been "taken hostage" for "helping the Jewish community in Cuba have access to the internet."
Neither was the case. He wasn't "simply" helping ordinary Cubans. He wasn't "taken hostage" and he wasn't "innocent" of breaking Cuban law. I don't mean to falsely equate Obama's and Rubio's statements. One points to the failed policies of the past while the other points to a more pragmatic, hopeful and unknowable future. But the facts behind Gross's escapades have been largely known since at least 2012 thanks to the dogged reporting of the Associated Press's Desmond Butler. At the time of his release, any cub reporter could have searched newspaper archives to learn more about Gross. That his presence at the State of the Union address did not raise an eyebrow in Washington, that he was recognized as a kind of hero in the fight for democracy and justice around the world, speaks volumes to the impotence of our national media and the lengths to which Obama is willing to go to end the still-lingering absurdities of the Cold War.
In 2009, the United States Agency for International Development (USAID) paid Gross, through a third party, almost $600,000 to go to the island nation to install military-grade Internet equipment in Jewish synagogues that could not be detected by the government in Havana. Gross's company specialized in installing computer electronics in remote areas and had worked in developing countries in Central Asia and Eastern Europe.
January 14, 2015, 6:00pm
British Jewish demand "Zero Tolerance for Anti-Semitism" at a London rally / Getty Images
There it was on Wednesday, on the front page of The Independent. "The new anti-Semitism," the headline read, and beneath it: "Majority of British Jews feel they have no future in the UK."
My interest was immediately piqued, not least because the idea that a majority of British Jews are without hope bears no relation to my own experience of Jewish life in this country.
It turned out that the source of this headline statistic was a poll conducted by the Campaign Against Anti-Semitism, a pressure group which, tapping into communal discontent with established institutions, staged a very successful, cross-communal rally promoting zero-tolerance of anti-Semitism last summer in London. Their report did indeed conclude that, from a sample of 2,230 British Jews, 45% are concerned that Jews may not have a long-term future in Britain.
Not to dismiss the concerns of those respondents, but there's good reason to question the findings of the specific section of the poll that surveyed members of the Jewish community in Britain. Mostly, that's because of the methodology used by the CAA, which conducted the poll independently without help from a recognized polling organization:
January 11, 2015, 1:10pm
A Lubavitch Jew had passersby put on tefillin yards from the besieged kosher market / Twitter
(JTA) — Standing for hours behind that yellow police line Friday, many of us could feel our patience running out as we waited idly near the Porte de Vincennes metro station for news from the hostage situation that was going on just 100 yards away, at the Hyper Cacher kosher supermarket.
The journalists among us were on the phone, setting up quality interviews for the next day about the drama we were prevented from approaching. An Islamist had taken more than 20 people hostage at a kosher supermarket, where five people died, including the assailant, before police secured the building.
The police officers preventing us from crossing were chatting among themselves, ignoring the crowd of curious passersby who paused to take pictures of the boulevard — normally a vibrant market which suddenly looked eerily empty because police had closed it to vehicular traffic.
Yet one of the people hanging around the barricade was having no downtime at all.
Holding his tefillin kit at the ready, a bearded follower of the Chabad-Lubavitch movement was soliciting Jews who passed by to put on the leathery straps and pray for the safety of the Jews who were being held hostage less than 100 yards away at the Hyper Cacher kosher store.
January 8, 2015, 12:00pm
A worker at Streit's Matzo Factory on the Lower East Side / Getty Images
This week brought news of the closing of Streit's Matzo Factory on the Lower East Side, a landmark that has been there since 1925.
For the past fifteen years, on the Sunday before Passover, on behalf of the Museum at Eldridge Street, I have led a walking tour of the Lower East Side with my colleague Hanna Griff-Sleven, a folklorist. Billed as a "journey into the kishkes of the old Jewish Lower East Side," it is an annual ritual I love.
We visit sites established by the Jewish immigrant community of the late 19th and early 20th centuries, places like the Forward Newspaper Building on East Broadway, Jarmulowsky's Bank, Loew's Theatre and Seward Park Library. On our walk, we also stop at kosher eateries that were established by Jewish immigrants, their descendants and new entrepreneurs — places like The Pickle Guys and Kossar's Bialys.
Streit's, on Rivington and Suffolk, was our ultimate destination. There the group would sample the warm matzo fresh off the conveyor belt, and purchase kosher for Passover products, old favorites as well as recent innovations like muesli and garlic aioli with dill.
Every year, the tour gets harder and harder to lead. The buildings still stand but only a few serve their original function. The Forward Building, once a bastion of socialism with relief portraits of Karl Marx and Friedrich Engels on its façade, today offers luxury housing. Jarmulowsky's Bank, dressed in scaffolding, is being converted into a boutique hotel. The beautiful library and settlement houses still do a brisk business albeit for a different, predominantly Chinese, immigrant community.
January 5, 2015, 2:45pm
Illustration by Lior Zaltzman
One month ago, I returned from China, where I was the guest of the Guilford and Diane Glazer Center for Jewish and Israeli Studies at Nanjing University. The Glazers are not the only Jewish philanthropic connection — many American Jews have made commitments in support of China's ten academic centers of Jewish study. Yes, you read that right — there are no less than ten centers for studying Judaism in China.
The Chinese have a fascination with Jews, you see. It's partly because of mythologies related to perceived notions of "Jewish political influence" in America, but it's also connected to the significance of Jews in Western history and culture. As the "other" great ancient civilization, Jews enjoy a level of respect and admiration among the Chinese.
My hosts at Nanjing made a conscious effort to expose me to scholars and students not only at that university but also at two other higher educational centers. Over a 12-day visit, I was invited to offer presentations on everything from the Israel-Diaspora partnership to the uniqueness of the American Jewish experience. My audiences included Jewish studies majors, academic officials and students from an array of disciplines, as well as ordinary Chinese citizens simply interested in the material.
So what did the Chinese want to learn about Jews in the United States? They were mostly focused on these questions: Why did such a community within the U.S. feel it important, even essential, to be politically engaged? Why did American Jews have a particular connection to Jews worldwide and especially to the State of Israel? What did Jewish peoplehood represent, and how did Jews maintain their connections across continents?
December 29, 2014, 5:00am
Moroccan-Israeli singer Neta Elkayam / Courtesy of Neta Elkayam
Call it a confirmation bias. Everywhere I turned this year, I saw a new expression of Arab Jewish identity. The revival seems to be happening across all fields — literature, food, music — yet somehow nobody's talking about it.
As an Arab Jewish writer (my family hails from Morocco, India and Iraq), I couldn't be happier about this flurry of cultural expression. I'm often dismayed by how "Ashkenazi" becomes a stand-in for "Jewish," while Sephardic and Mizrachi voices fall by the wayside.
Imagine my excitement, then, when I discovered Eduardo Halfon's new novel, "Monastery," in which the conflicted, tragicomic protagonist denies his Arab identity when talking to certain Jews, and his Jewish identity when talking to certain Arabs.
I also geeked out over two academic books this year: Lital Levy's "Poetic Trespass" and Liora Halperin's "Babel in Zion" argue that Arabic is every bit as Jewish as Hebrew is. Early Zionists may have tried to separate Palestinians and Jews by marking Arabic as "their" language and Hebrew as "ours," but that doesn't erase the fact that families like mine spoke, studied and sang in Arabic for centuries.
Neta Elkayam sings "Ta'ali" / YouTube

Young Jewish musicians are reclaiming Arabic as they explore their roots. Some of them focus on preserving rare video and audio clips. Regine Basha, for example, collects Iraqi Jewish music in her archival project, "Tuning Baghdad." Others, like Moroccan-Israeli singer Neta Elkayam, remix their grandparents' musical traditions and bring them into the 21st century. Elkayam speaks perfect Hebrew, but she chooses to sing in Marocayit, the Arabic dialect of her grandparents (and mine).
December 24, 2014, 2:45pm
Leonard Cohen / Getty Images
Have you heard the Christmas version of Leonard Cohen's "Hallelujah," a recently released YouTube sensation by Kansas-based band Cloverton? Well, I have, and I hate it. But not for the reasons you might think.
Am I pissed off — as many Jews appear to be — on Cohen's behalf, because he's Jewish and these musicians have "converted" his lyrics, turning the song into the Christian story of Jesus' birth? Of course not. Anyone who knows Cohen knows that his Judaism is not the tribalist sort. For him, music transcends religion. It's spiritual, but only in the sublime sense; he couldn't care less about thou-shalt-and-shalt-not Judaism, and he couldn't care less about members of another religion making a spin-off of his song. That's why he and his record company, Sony Columbia, gave Cloverton permission to do just that.
Am I offended, then, because the remake replaces Cohen's references to the "Jewish" Old Testament with references to the New? Of course not. The Old Testament isn't just a Jewish text; it's a core part of the Christian canon, too. So if Christian musicians want to swap out allusions to one of their texts for allusions to another, spinning them into a new song, I have zero problem with that.
Unless, of course, the new song sucks. Which this one does.
December 18, 2014, 11:45am
Illustration by Lior Zaltzman
Hello, my name is Lior and I'm a podcast addict. I've been streaming "This American Life" for years. I've turned podcasts into verbs. No, I can't answer the phone right now, I'm "Savage Love"-ing. Whenever my husband says "Ok. Alright?" I want to scream "This is Radiolab!" Once I even used "Ira Glass" as my bowling pseudonym (I lost, sorry Ira). For the longest time I've felt that listening to podcasts was a niche. But not anymore.
Every Thursday since October 3 has been a battle of the wills for me. I try to hold off as much as I can, giving myself tasks to do before I can listen to the newest episode of "Serial." Which in turn has made Thursday, arguably, my most productive day of the week.
"Serial" is ending today. The "This American Life" spin-off is the highest-rated, most-listened-to podcast ever. And there's a reason for that. "Serial" is a melange of "This American Life"'-style candid, heartfelt reportage, the breadth and continuity of an audio book and the edge-of-your-seat suspense of true crime drama. It is everything.
Sarah Koenig, who got her start with "This American Life," is the Jewish host and executive producer of "Serial." She depicts an "everyday crime," one that never got much media attention before the podcast aired: the 1999 murder of Hae Min Lee, a high school senior at Baltimore's Woodlawn High, who went missing on January 13, 1999 and was found dead on February 9 of that year. Adnan Syed, her ex-boyfriend, also a Woodlawn senior at the time, was convicted of her murder. The main evidence came from eyewitness testimony: Jay, Adnan's "ex-friend" and pot dealer, claims he helped Adnan bury the body.
December 15, 2014, 5:20pm
People run with hands up from the Lindt Cafe during a hostage standoff in Sydney, Australia / Getty Images
My ears perked up when I heard the news about a potential terror attack at the Lindt Chocolat Cafe in Sydney. "Potential" terror attack, because for a while the nature of the situation was unclear. And then came the now-familiar black flag with white Arabic lettering, and what was murky became just a tiny bit clearer.
For some reason, my thoughts went to what this moment must feel like for the average Muslim living in Australia. Or in London. Or in my own New England city. Because that is an emotion I recognize. Though they had nothing to do with the crime, I imagine that these Muslims experienced that all-too-familiar feeling, that gnawing fear deep in the stomach, that in my house is called, "Oy. Not good for the Jews."
No Jew who has even a passing connection to community can credibly deny it. When something bad happens, you sit and wait, listening to the radio, watching the news, refreshing the screen. And then, they say, we can identify the attacker, name the criminal. And the name flashes across the screen. You read it and think, "Thank God that's not a Jewish name. Could that be a Jewish name? Oh man, that's a Jewish name."
On one level, of course it's utterly ridiculous that the actions of a complete stranger could reflect on me as a person. But the truth is complicated. Because no matter who I am or what I do, there will always be people who associate me with the bad apples. And maybe, in some small way, they have a point.
December 15, 2014, 2:55pm
Illustration by Lior Zaltzman
Jaco Halfon spent the last week of November glued to his computer at home in L.A. Presidential election results were coming in from his homeland of Tunisia. Halfon, a Tunisian citizen, wanted to make sure that he was up-to-date and that readers of his popular Jewish website Harissa got the relevant commentaries.
Tunisian citizens voted in a free and direct presidential election for the first time on November 23. It had been three years since the Jasmin revolution that overthrew ruler Zine el-Abidine Ben Ali. Following an interim government and October's parliamentary elections, it was time to for Tunisian citizens to vote on who would lead the new democracy.
Among the 11 million citizens living in Tunisia, there is still a tiny Jewish community; it has shrunk from more than 100,000 in 1948 to about 1,800 Jews today, mostly in Tunis and in the southeastern island of Djerba. Most Tunisian Jews have emigrated to Israel and France over the years, while a few thousand have moved to North America.
The new Tunisian election law determines that Tunisian citizens overseas are allowed to vote. Halfon decided not to vote, even though he is entitled to. "I feel a bit [far] away from over there," he said. "We do not intend to go back there so I think it is a Tunisian issue and it's for the people who live there to decide."
Leaving the decision to Tunisia's residents doesn't mean that Halfon doesn't have strong opinions about the elections. Out of the 25 candidates, the two who emerged as the leading candidates were Beji Caid Essebsi and Moncef Marzouki. If Halfon were to vote, he would vote without hesitation for Essebsi — or as he put it, "for democracy."
December 15, 2014, 2:25pm
A Tunisian Jewish family on the island of Djerba / Getty Images
The Tunisian Ambassador to the United Kingdom recently came to the Chabad here in Oxford to give a Shabbat dinner talk. Needless to say, this event was not an ordinary Shabbat dinner by any means. After a meal of traditional Tunisian foods, the ambassador spoke about the need for co-existence, the importance of listening to other narratives, and — most interestingly for me — the status of Tunisian Jewry today. Though only about 1,500-strong today, the community leads a vibrant life — and many of the 80,000 Tunisian Jews across France, Canada and Israel regularly return to Tunisia for visits, even buying property there.
The ambassador painted a very inspiring picture. Yet one lady present was not quite in favor of this interpretation: She continuously interrupted him to claim that Jews were either struggling for survival after being forced to leave Tunisia, complete victims, or that the Israeli side of the story was being completely ignored. What's more, she implied that Jews would only buy property in Tunisia if it were cheap — that there was nothing to see and the country was "dirty" and "barren." As for one Tunisian Jewish community's endorsement of the Islamist Ennahda party, she was completely dismissive.
The ambassador responded eloquently to her claims and kept the discussion from being derailed. And another Moroccan gentleman pointed out the ex-Vichy French and Israeli state roles in the deportation of Jews to Israel. But this lady's outburst made me think: How might the Tunisian Jewish experience shake up some of our (Ashkenazi) assumptions about Mizrahim and Israel?