March 4, 2015, 5:30pm
You haven't seen Bibi's speech until you've seen it like this.
Noy Alooshe, the Israeli remix king best known for his 2011 "Zenga Zenga" spoof, has outdone himself with a remix of his prime minister's speech to Congress.
In the video, Bibi bosses around the audience members like they're little kids, issuing alternating commands of "Sit!" and "Stand!" — a reference to a Hebrew children's song ("Ooga Ooga Lashevet Lakum"). He wins countless standing ovations with his constant refrain of "Iran! Bomb! Iran! Bomb!" And his juxtaposition of "Iran" and "Haman" seems to be a real crowd-pleaser, too.
Meanwhile, Jewish Home leader Naftali Bennett watches the livestream on TV, happily lapping up this show of American pageantry. Whenever he flips the channel, we get snippets of Yesh Atid leader Yair Lapid yelling "Yalla be-Karchana!" — loose translation: "Party hard!" — and of Meretz leader Zahava Gal-On flouncing around in her cringe-worthy campaign video. Both of these politicians look ridiculous — like flighty and superficial teenagers — by comparison to Bibi, who's all gravitas and scare tactics and feathery blue-white hair.
In between references to "Game of Thrones," "Google" and the Ayatollah's "tweets," Bibi's got Barack Obama and Joe Biden running laps. They look, well, like little lap dogs…and the total effect is pretty amazing.
Just try dancing to it!
March 4, 2015, 1:40pm
When Benjamin Netanyahu spoke to Congress about the dangers of a nuclear Iran, he couldn't resist drawing a parallel to that other time Jews were threatened by a "Persian potentate." (Extra points for vocab, Bibi!)
We, in turn, couldn't resist imagining the entire Purim story recast in Bibi terms.
Before the fun, the facts. Here's a refresher on what the Israeli prime minister said:
In our nearly 4,000 years of history, many have tried repeatedly to destroy the Jewish people. Tomorrow night, on the Jewish holiday of Purim, we'll read the Book of Esther. We'll read of a powerful Persian viceroy named Haman, who plotted to destroy the Jewish people some 2,500 years ago. But a courageous Jewish woman, Queen Esther, exposed the plot and gave for the Jewish people the right to defend themselves against their enemies. The plot was foiled. Our people were saved.

Today the Jewish people face another attempt by yet another Persian potentate to destroy us. Iran's Supreme Leader Ayatollah Khamenei spews the oldest hatred, the oldest hatred of anti-Semitism with the newest technology. He tweets that Israel must be annihilated — he tweets!
And now, we hope you enjoy these humble e-cards. Click on each one individually to share with your friends and spread the holiday cheer!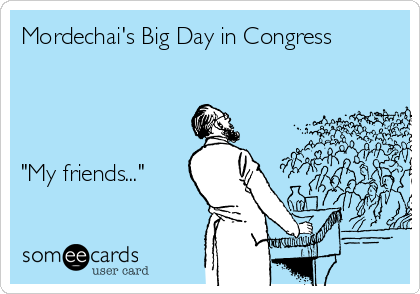 March 3, 2015, 4:00pm
House Democrats listen to Netanyahu's speech / Getty Images
As the echo of the sustained ovations that greeted Israeli Prime Minister Netanyahu's speech to a joint session of Congress began to fade, Democratic apologists for the Obama administration had a problem. For several weeks, the White House succeeded in focusing attention on the question of the alleged breach of protocol and partisanship that they claimed the invitation to Netanyahu represented. But once the address was actually delivered by the prime minister, this spin on events passed its expiration date.
Faced with Netanyahu's powerful arguments explaining why an Iran deal predicated on a series of Western retreats would be a disaster, the White House and the rest of the president's cheering section need to find a way to defend positions that have discarded the president's past pledges to end Iran's nuclear program. But, instead, they are reverting back to last week's talking points. It won't work.
Netanyahu laid out a cogent analysis of why a deal that leaves Iran in possession of its nuclear infrastructure and will eventually expire is an invitation for more Iranian cheating. But even if you believe that the U.S. has the sort of intelligence that would enable it to detect a nuclear breakout in time, the sunset clause that President Obama has discussed means, as Netanyahu pointed out, that even in the unlikely event that the Islamist regime abides by its terms, the deal may still lead to a nuclear Iran.
Moreover, contrary to his critics, Netanyahu did offer a realistic alternative to Obama's strategy of negotiation by capitulation. By returning to the path of tough sanctions (strengthened by the Kirk-Menendez bill now before Congress) that the president prematurely abandoned in 2013, there is a chance that the regime can be forced to negotiate terms that are consistent with the president's 2012 campaign promises. The president seems more intent on building a new détente with a terror-supporting, anti-Semitic regime bent on regional hegemony than in using the leverage he discarded.
March 3, 2015, 2:30pm
Getty Images / Lior Zaltzman
The case Netanyahu laid out against an Iran deal in his address to Congress revolves around 11 core arguments. Think they sound convincing? Look at those arguments one by one, and you'll see why each of them is bogus.
Argument #1. More pressure can secure a better deal with Iran than current negotiations. If Iran walks away from talks now, this pressure will eventually bring it back to the table, ready to make more compromises.
Pressure in the form of sanctions — especially multilateral, international sanctions — helped convince Iran to come to the negotiating table. But Iran's red lines in negotiations, including retaining some level of enrichment, are clear. Additional U.S. pressure now, aimed at forcing the Iranian regime "to its knees," is far more likely to scuttle talks than to force greater Iranian flexibility, and the failure of diplomacy would be blamed on the U.S., not Iran. One result: no deal to curtail Iran's nuclear program. Another result: strengthening those in Iran who support weaponization of the nuclear program as a deterrent against attack. And a third result: the almost certain collapse of the international sanctions regime, which has been critical to restraining Iran's nuclear program so far.
Argument #2. The only good deal with Iran is one that completely or nearly completely dismantles Iran's nuclear infrastructure, preventing Iran from enriching or limiting Iran to close to zero enrichment.
Zero enrichment or complete dismantlement of Iran's nuclear infrastructure is both unachievable and unnecessary. It's unachievable because just as U.S. negotiators must get a deal they can "sell" to their constituencies, Iranian negotiators must be able to sell a deal to their own constituencies as meeting their own red lines. And it's unnecessary because assuming "zero enrichment" and "complete dismantlement" are genuinely shorthand for "the best possible guarantee that Iran's nuclear program will remain peaceful," this goal can be achieved through a nuclear agreement that includes strict limits on Iran's enrichment capacity and stringent safeguards and transparency with respect to Iran's nuclear facilities and materials. Insisting on "zero enrichment" or "total dismantlement" guarantees no deal — which means it guarantees that such limits and safeguards are absent.
March 3, 2015, 1:30pm
Getty Images
Speaker of the House John Boehner,
President Pro Tem Senator Orrin Hatch,
Senator Majority Leader Mitch McConnell,
House Minority Leader Nancy Pelosi,
And House Majority Leader Kevin McCarthy,
I also want to acknowledge Senator, Democratic Leader Harry Reid. Harry, it's good to see you back on your feet. I guess it's true what they say, you can't keep a good man down.
My friends, I'm deeply humbled by the opportunity to speak for a third time before the most important legislative body in the world, the U.S. Congress. I want to thank you all for being here today. I know that my speech has been the subject of much controversy. I deeply regret that some perceive my being here as political. That was never my intention.
I want to thank you, Democrats and Republicans, for your common support for Israel, year after year, decade after decade. I know that no matter on which side of the aisle you sit, you stand with Israel. The remarkable alliance between Israel and the United States has always been above politics. It must always remain above politics. Because America and Israel, we share a common destiny, the destiny of promised lands that cherish freedom and offer hope. Israel is grateful for the support of America's people and of America's presidents, from Harry Truman to Barack Obama.
We appreciate all that President Obama has done for Israel. Now, some of that is widely known. Some of that is widely known, like strengthening security cooperation and intelligence sharing, opposing anti-Israel resolutions at the U.N.
Some of what the president has done for Israel is less well-known. I called him in 2010 when we had the Carmel forest fire, and he immediately agreed to respond to my request for urgent aid. In 2011, we had our embassy in Cairo under siege, and again, he provided vital assistance at the crucial moment. Or his support for more missile interceptors during our operation last summer when we took on Hamas terrorists. In each of those moments, I called the president, and he was there.
And some of what the president has done for Israel might never be known, because it touches on some of the most sensitive and strategic issues that arise between an American president and an Israeli prime minister. But I know it, and I will always be grateful to President Obama for that support.
And Israel is grateful to you, the American Congress, for your support, for supporting us in so many ways, especially in generous military assistance and missile defense, including Iron Dome. Last summer, millions of Israelis were protected from thousands of Hamas rockets because this capital dome helped build our Iron Dome.
Thank you, America. Thank you for everything you've done for Israel.
March 2, 2015, 2:55pm
Getty Images / Lior Zaltzman
On the eve of his departure to Washington this week, Benjamin Netanyahu told the Israeli press assembled on the airport tarmac that he had a "sacred duty" to do everything in his power to protect Israel and the Jewish people from existential threats. As Netanyahu has said nearly every time he's made a public address over the last decade or so, he believes that Iran is out to destroy the state of Israel. More recently, the Israeli prime minister has amped up his fear message with his frequent insistence that the only safe place for Jews to live is the state of Israel. In reality, Israel is a far more dangerous place for a Jew to live — just look at the relative casualty counts. And Netanyahu has not only made Israel a more dangerous place for Jews, but he has made them more vulnerable in the Diaspora as well.
In fact, you could argue that Netanyahu's policies have made Jews — in Israel and around the world — more vulnerable than they have been at any time since 1948.
On Netanyahu's watch, the Israeli military launched two military campaigns against Gaza in as many years. On both occasions, hundreds of thousands of Israeli civilians came under rocket fire from Gaza. Children spent their summers in bomb shelters, while parents living on the Gaza border tried to keep from panicking every time an air raid siren caught them more than 30 seconds from the nearest safe room. Seventy-one Israelis were killed in last summer's war, and another six were killed in the 2013 operation called Pillar of Defense. The media and military experts credited the air defense system known as Iron Dome with minimizing Israeli civilian casualties, with the Israeli foreign ministry even presenting a Hanukkah menorah designed like a mini Iron Dome to U.S. ambassador Dan Shapiro.
Iron Dome is, as most people know, funded by the United States, with emergency additional funding approved by Congress during last summer's war. Democratic Senator Dianne Feinstein was among the leaders of the initiative to expedite emergency help to Israel. But on Sunday she said on CNN's Face the Nation that Netanyahu was "arrogant" and "did not represent" her as a Jewish American. Will she be as quick to support Israel in the future, now that Netanyahu has so openly insulted President Obama and the Democrats? It's hard to say, but certainly dividing American support for Israel, which for years was unswerving and bipartisan, makes Israel look vulnerable in the international arena.
March 2, 2015, 1:50pm
Getty Images / Lior Zaltzman
Despite all the chatter to the contrary, it's important for Netanyahu to speak before Congress tomorrow — and we should all hear him out.
For those of us who don't yet see why — who focus too much on protocol and politics and L'Affaire Boehner and so may have missed some of the key substantive questions along the way — allow me to make the case for Bibi in a nutshell.
For months now, America's most important allies in the Middle East have been deeply troubled by the negotiations taking place between the P5+1 states and Iran over the latter's nuclear weapons program. Maybe it's the fact that the Administration stopped using the word "dismantle" when describing its demands. Or maybe they think the whole idea of turning the world's biggest terror supporter and destabilizing force into a "successful regional power" isn't very wise. Or maybe it was Tehran's decision to blow up a mock American aircraft carrier just when you'd expect them to be conditioning their public for a great reconciliation. For whatever reason, the very allies who have the most to lose by a bad deal — Saudis, Egyptians, Israelis and more — are highly concerned. They're really clamoring to be included and to have their voice heard before it's too late.
That's reason enough to hear another opinion other than that of the Administration.
In the last few weeks, however, the Netanyahu speech has also been mischaracterized in at least two big ways.
February 6, 2015, 12:21pm
Let the finger-pointing begin.
Two weeks into the Bibi-gate (or perhaps Bohener-gate, or simply speech-gate) controversy, with no sign of Democratic anger subsiding, Benjamin Netanyahu and his allies are starting to look for excuses.
The defense Bibi has settled on can be summed up in three words: "It's Boehner's fault."
Policymakers and congressional staff members have been hearing this line in closed-door meetings with Israelis for the past week. Israelis, including Netanyahu's office and the Israeli embassy in Washington, have been arguing that they were blindsided by House Speaker John Boehner.
It was all, they say, one big misunderstanding.
According to this explanation, Netanyahu, through his ambassador to Washington Ron Dermer, had understood that Boehner would make sure that Democrats were on board with the idea of inviting the Israeli leader to address a joint meeting of Congress on the problem of Iran's nuclear development activities. Maybe not all Democratic leadership, but at least enough to allow all sides to say with a straight face that it was a bipartisan invitation.
Furthermore, Netanyahu and Dermer did not know — at least according to people who have been in touch with Israeli officials dealing with the mess created by the invitation — that Boehner would announce the visit the morning after President Obama delivered his State of the Union speech. The timing appeared designed to rebut the president's stand on Iran, thus infuriating the president and his fellow Democrats.
January 25, 2015, 4:15pm
Argentine journalist Damian Pachter after arriving in Tel Aviv on January 25 / Haaretz
So here they are, the craziest 48 hours of my life.
When my source gave me the scoop on Alberto Nisman's death, I was writing a piece on the special prosecutor's accusations against President Cristina Fernández de Kirchner, her (Jewish) Foreign Minister Héctor Timerman, two pro-Iran "social activists" and parliamentarian Andrés Larroque. I learned that Nisman had been shot dead in his home.
The vetting process wasn't too tough because of my source's incredible attention to detail. His name will never be revealed.
Two things stood in my mind: my source's safety and people's right to know what happened that day, though not necessarily in that order.
Of course, for both speed and the contagion effect, Twitter was the way to go. The information was so solid I never doubted my source, despite my one or two colleagues who doubted me because I only had 420 Twitter followers — a number now eclipsing 10,000.
As the night went on, journalists contacted me in order to get the news from me even more directly. The first to do so was Gabriel Bracesco.
Once I tweeted that Nisman had died, hundreds of people quickly retweeted the news and started following me. That was my first of many sleepless days.
"You just broke the best story in decades," lots of people said. "You're crazy," was another take. Either way, nobody questioned that the situation was very grave.
The following days were marked by a government trying to create an official story. First, the head of state suggested a "suicide hypothesis," then a mysterious murder. They of course were not to blame. In anything.
January 22, 2015, 8:11pm
Demonstrators protest outside the AMIA Jewish center in Buenos Aires
Theories abound about the suspicious death of Alberto Nisman, the Argentina anti-terror prosecutor who was found dead in his Buenos Aires apartment on January 18.
Nisman, who was Jewish, was set to testify the day after his death about the 1994 terrorist attack at the Asociación Mutual Israelita Argentina (AMIA), in which a suicide bomber drove a van full of explosives into the Jewish center.
The attack killed 85 people and wounded about 300, making it the deadliest single attack on Jews outside Israel since World War II.
Since Sunday, there has been an outpouring of outrage in the streets in Argentina. The case also raised the concerns of the local Jewish community who protested on January 21, in front of the AMIA in Buenos Aires, calling for "justicia."
But who might have wanted Nisman dead — and why? Here are four possible answers.
September 18, 2014, 4:25pm
A still from the Iranian version of Pharrell Williams' "Happy" music video / YouTube
It's a weird aftereffect of a Jewish day school education that, when I see a headline like "Iran Court Sentences 'Happy' Dancers to 6 Months and 91 Lashes," I immediately ask myself: WWTDD? Or: what would the Talmud do?
You might remember that back in May, seven young men and women were arrested in Iran for recreating Pharrell Williams' "Happy" music video and posting it on YouTube. Now a Tehran court has sentenced the dancers to six months in prison plus 91 lashes each. Luckily, the sentence was suspended, meaning that the verdict won't actually be carried out unless the dancers repeat their "crime" in the next three years.
Still, it's a harsh verdict, and everyone from Pharrell Williams to Iran's own President Hassan Rouhani seems unhappy with how these kids have been treated. "It is beyond sad that these kids were arrested for trying to spread happiness," Williams wrote on his Facebook page. "Happiness is our people's right. We shouldn't be too hard on behaviors caused by joy," Rouhani wrote in a May tweet widely seen as expressing support for the dancers.
Likewise, my initial response was: Ouch! 91 lashes? Even the ancient rabbinic texts I studied in school didn't recommended meting out that many! Then, to make sure my impulse was correct, I did a bit more digging into the wide world of rabbinic whipping.
February 4, 2014, 12:35pm
Sanctions bill sponsor Sen. Robert Menendez addresses AIPAC annual policy conference, Washington Convention Center, March 5, 2013 / Getty Images
Efforts to pass a new Iran sanctions bill have not only stalled in the Senate, but appear to be slowing even in the House. Perhaps predictably, given the focus on AIPAC as the primary driver of the bill, observers are now wondering whether AIPAC has "over-reached" and been "weakened." While the failure of any lobby group to pass signature legislation dents its reputation, presumptions about AIPAC's coming vulnerability betray fundamental misconceptions about how foreign policy is made.
Foreign policymaking in the United States is an executive privilege. Presidents typically have a lot of leeway in this area. This is the result of constitutional authority, judicial reinforcement, and a general acceptance among lawmakers that presidential predominance in foreign affairs is both necessary and, by now, traditional.
Under these conditions, lobby groups have always had much more success with Congress than with presidents. Congress is a fractious body, with over 500 individual targets; the president is a single individual. Failures in Congress are more setbacks than anything else, given the multiple access points and the rolling nature of elections; failing to convince the president is a very public event, harder to overcome.
January 23, 2014, 8:15am
Want to know who stands where on Iran sanctions? We've got the answer — at least for the 10 Jewish senators.
Of course, it's never quite that simple. See below for the fine print.
Senators who had signed on as co-sponsors are listed as supporters of the bill. Senators who have spoken out publicly against the bill are listed as being opposed.
Similarly, senators who have not gone on record on the issue but have refused to sign on as co-sponsors, despite the massive lobbying effort to reach more than 60 co-sponsors, are also listed as being opposed to the bill.
Sen. Richard Blumenthal (D-Conn.) is in a category all his own. He signed on as a co-sponsor, making him a supporter of the bill. However, he also says he is opposed to bringing the bill to a vote. That makes him an opponent of what the bill's supporter's want.
Got it?
January 22, 2014, 12:35pm
Sanctions bill sponsor Sen. Robert Menendez addresses AIPAC annual policy conference, Washington Convention Center, March 5, 2013. / Getty Images
In American politics, do Jewish voices count more on Israel than others? Should they? And who's counting? UCLA professor Mark Kleiman, for one, who called on his Washington Monthly blog for readers to lobby their senator against a new Iran sanctions bill especially "if you're Jewish, or have a Jewish-sounding name." The anti-Zionist writer Phil Weiss responded that Kleiman's appeal proves that, on this issue, "we [Jews] are 5/3 of a man, to reverse the old voting fraction of black people."
Weiss has picked an obnoxious analogy. Even those who talk about Israel as an "apartheid state" rarely have the chutzpah to include Washington D.C. in the supposed ethnocracy. But Weiss is also wrong in a more interesting way. Talk of how much Jews count is hopelessly naïve, because in fact, American foreign policy — in many areas — responds far less to mass demographics than to small, committed ideological elites.
Why is that? First of all, American Jews don't care much politically about Israel. Most feel emotionally attached to Israel, but in 2012, only four percent considered it their most important political issue, classing it with sleepers like the environment and immigration. Nor is our apathy atypical: Americans just don't care much about foreign policy. Less than ten percent of us vote primarily on foreign policy. When asked what is the most important issue facing the country, we show no interest in other countries (well, a little when people leave them to come here). Government, policy, and media elites love to talk about an increasingly globalized world, but most Americans think of foreign affairs as politically remote and irrelevant.
December 19, 2013, 4:50pm
A Palestinian worker passes near the Aida refugee camp on December 21, 2005. / Getty Images
Reading the recent reports about Jewish American spies like Robert Levinson and Alan Gross, I can't help but think back on my own experiences in the Middle East.
A friend and I lived and volunteered in the Aida refugee camp, just outside Bethlehem, for several months after graduating high school. It was a great and memorable experience for both of us, but living in tense regions of the world has more downsides than just poor resources and facilities, which are to be expected. There is also the almost constant fear that your own friends might be suspicious of you.
One night there was a loud thump on the front door of our home, as if someone had thrown a large stone or possibly a brick. It was followed by a louder thump, another bang and then a few seconds of calm. My friend and I quickly, almost instinctively, grabbed the largest kitchen knives we could find and ran, knives in hand, to the front door.
November 21, 2013, 2:16pm
The Forward is partnering with other Jewish newspapers to offer our readers a peek at some of the best stories from around the country, as selected by the editors at those papers. We will offer a selection of unedited links with brief introductions from the editors of the papers.
Barack or Bibi? Trust, Loyalty and Iran
By Jonah Lowenfeld
On Rosh Hashanah 2012, just a few weeks before the presidential election, Sinai Temple's Rabbi David Wolpe offered his congregants a sermon titled "The Most Important Question in the World Today." In it, he told his congregation he was, at that moment, a single-issue voter: "I will vote for whichever candidate seems likelier to stop Iran from obtaining a nuclear weapon," Wolpe said.
With that election long past, whom Wolpe voted for may now be immaterial, but the issue he pointed to continues to be of vital concern to Americans and, in particular, American Jewry. This week, as negotiators from the United States and five other world powers (known as the P5+1) come together in Geneva for a new round of talks with their Iranian counterparts, American Jews concerned about Israel face an even more urgent — and perhaps more uncomfortable — variation on that question: Can Jews trust the Obama administration with Israel's future?
Read the complete story at The Jewish Journal
April 26, 2013, 5:12am
I doubt I'm the only one who noticed the irony of Defense Secretary Hagel affirming Syria's likely use of chemical weapons, touching off a clamor among congressional hawks and the now familiar gaggle of neocons and liberal interventionists for American intervention in the civil war there, on the very day that President Obama was in Texas dedicating the George W. Bush presidential library. You couldn't make this stuff up.
The irony is only compounded by the fact that the library officially opens to the public on May 1, 10 years to the day after Bush's misbegotten "Mission Accomplished" speech on board the U.S.S. Abraham Lincoln, declaring that the war in Iraq had ended in victory. Of course, it wasn't over, and by the time we pulled out eight years later, it was pretty clear that America hadn't won. Saddam Hussein was gone but the country had descended into years of horrific, violent chaos, and it ain't over. And for what? Saddam was never shown to have anything to do with 9/11 or Osama bin Laden. There were no weapons of mass destruction. Saddam was toothless.
But it was much worse than pointless. Removing Saddam eliminated neighboring Iran's worst enemy, allowing the Islamic Republic to emerge as the regional superpower. Indeed, it would be fair to say that Iran was the biggest winner from the U.S. invasion of Iraq. But hey, don't take my word for it. Listen to U.S. News owner Mortimer Zuckerman, one of the invasion's most outspoken boosters. Here he is in October 2002, in one of his many get-Saddam editorials in the run-up to the invasion: "We are in a war against terrorism, and we must fight that war in a time and a place of our choosing. The war's next phase, clearly, is Iraq." Now, here he is four years later, in December 2006: "Question: What's the most dangerous geopolitical development in the 21st century? Answer: Iran's emergence as the Middle East regional superpower." And here he is again in April 2007: "Ironically, Iran has been the great beneficiary of the war in Iraq."
In other words, the Iraq invasion, which Zuckerman spent months demanding, resulted in "the most dangerous geopolitical development in the 21st century." So what's he up to now? Well, last week, even before the chemical weapons bombshell, he was calling the administration's cautious approach "feeble" and urging some sort of stepped up involvement—either military engagement or full-scale arming of the rebels.
All this doesn't make Zuckerman a bad man. But it does make him and his neoconservative allies extremely unreliable guides to the uncertain politics of the Middle East. The crowd that pushed us into Iraq created a disaster. And now they're calling for firm action in Syria.
We know what they didn't understand about Iraq. So what are they getting wrong about Syria?
April 23, 2013, 11:44pm
Defense Secretary Chuck Hagel's April 23 visit to Israel has yielded some interesting fallout. Not least is the apparent puncturing of the image his opponents tried to paint of a sworn enemy of Israel. Haaretz's Chemi Shalev does a pretty nifty job of skewering the anti-Hagel crowd, suggesting satirically that the secretary's effusive embrace of Israel and the huge new arms sale he announced (details of which are here and here) are meant to "lull Israel into a false sense of security," which "will only make it easier" for Hagel, Obama & Co. "to fulfill their lifelong dream of 'throwing Israel under a bus.'"
It's a sinister plot, Shalev writes. Hagel couldn't have changed his tune in response to the "intimidating" powers of the "Jewish lobby," since we all know those powers are imaginary. The only other two possibilities are that he's engaging in psychological warfare, to lower Israel's guard—or that "Hagel's critics were wrong." But that last possibility, he concludes, "can't possibly be true, because by now Hagel's critics would have owned up to their mistake and profusely apologized, no?"
Also essential reading is this analysis of the Hagel visit by Bloomberg News columnist (and former Forward staffer) Jeffrey Goldberg (no, for the last time, he's not me). The new weapons systems Israel is to receive, especially advanced long-distance radar systems, the KC-135 midair refueling tankers and the V-22 Osprey tilt-rotor transport aircraft (a combination helicopter and jet plane, never before sold to another country), all make it easier for Israel to attack Iran. But given Hagel's longstanding opposition to attacking Iran, what does this sale mean? Goldberg makes two key points:
Permalink
| |
Share
|
Email
|
Print
| Filed under:
V-22 Osprey Tilt-Rotor Transport Aircraft, Weapons Systems, Uzi Arad, Pentagon, Moshe Yaalon, Jewish Lobby, KC-135 Refueling Tanker, Jeffrey Goldberg, Iran, Haaretz, Dan Meridor, Chuck Hagel, Chemi Shalev, Bloomberg News, Benny Begin, Arms Sales
March 21, 2013, 11:27am
Moshe Ya'alon was one of the first ministers that Obama met for more than a handshake and a brief chat, as he was part of the small party that accompanied him to the Iron Dome.
Moments before they viewed the installation, Obama said: "We stand together because peace must come to the Holy Land," which for him means the two-state solution. "Even as we are clear eyed about the difficulties, we will never lose sight of the vision of an Israel at peace with its neighbors."
Well, actually, Ya'alon is pretty clear that he's lost sight of the kind of vision for peace Obama refers to. He is a left-winger who has taken a sharp turn. As the Forward reported last week, he thinks that the two-state option is a lost cause, and has said that anybody who sees a solution on the horizon is engaging in "self-deception" and promoting a "golden calf."
And Ya'alon, while often portrayed as restrained on the issue of Iran, has been rather cutting about where Obama stands on the issue in the past. Early last year he claimed that his administration was too cautious over imposing sanctions on Iran because of "election year considerations." Britain and France, he said, were being very firm on sanctions, but not so America.
"In the United States, the Senate passed a resolution, by a majority of 100-to-one, to impose these sanctions, and in the U.S. administration there is hesitation for fear of oil prices rising this year, out of election-year considerations," he said. "In that regard, this is certainly a disappointment, for now."
Ya'alon's predecessor Ehud Barak signed off settlement building plans, as is required of his office, but wasn't pro-active in this area, delayed a lot of applications, and evacuated some illegal settler homes. Ya'alon by contrast is enthusiastic about settlements, and sees them growing.
When the last Israeli government, Washington often communicated with Barak out of preference to with Netanyahu, finding his positions, in some respects, close to those of Washington. Obama's encounter with Ya'alon will have directed his attention on just how different the atmosphere between Washington and this government office is likely to become over the coming months.
March 18, 2013, 7:09pm
Ynet.co.il, the news site associated with Yediot Ahronot, has a profile of incoming Defense Minister Moshe Yaalon (known since his youth by the nickname "Boogy"). It's important reading, so I've translated it below.
Here's the background that's not in the profile: Born Moshe Smilansky in 1950, raised in suburban Haifa, he was active in the Noar Oved ve-Lomed youth movement and was in a garin (settlement group) named Garin Yaalon (from which he took his name), which joined with a sister garin from American Habonim to rebuild Kibbutz Grofit near Eilat. He returned to the army after the Yom Kippur War in 1973 and rose through the ranks. Commanded the elite Sayeret Matkal commando unit, became chief of Military Intelligence in 1995 and chief of Central Command, in charge of the West Bank, in 1998. During this period he underwent a famous conversion from left- to right-wing, claiming publicly that he now realized the Palestinians had no intention of making peace. In 2002 he became chief of staff, serving three years after Defense Minister Shaul Mofaz denied him the customary fourth-year extension due to his outspoken opposition to Prime Minister Ariel Sharon's Gaza disengagement plan. It's worth noting that of the 18 living ex-chiefs of the IDF, Mossad and Shin Bet, he is the only one who opposes a two-state solution. - JJG
Political Hawk and Loose Tongue

Moshe "Boogy" Yaalon called his General Staff colleagues "snakes" and the organizations on the left "a virus." He believes that evacuating settlements is "perverse" and that the IDF can attack any nuclear installation in Iran. Over the years Yaalon's statements have reflected a determined, activist security philosophy. In his gunsights: leftists, Turks and of course Ehud Barak.

By Roy Mandel, Ynet 3/18/13

In April 2012 Moshe "Boogy" Yaalon absorbed criticism at home when he dared to declare that he was Benjamin Netanyahu's heir and would one day run for the leadership of the Likud and the country. The prime minister, as we learned from the negotiations with Yair Lapid, does not like politicians who openly declare that the house on Balfour Street is the object of their dreams. But ever so quietly, under the radar and almost without opposition, the former chief of staff has found himself in an excellent launching pad for the fulfillment of his vision, now that he has been named defense minister in Israel's 33rd government. The man who declared on the day he was demobilized from the IDF that he was careful to keep his boots on at General Staff headquarters because of all the snakes will soon enter much taller shoes and march in them to his new office, which is located in the same General Staff compound, the Kiryah.

Moshe Yaalon, ID no. 2057989, is a kibbutznik who returned to active duty after the 1973 Yom Kippur War, a retired chief of staff, the commander of the IDF during the second half of the second intifada and a person who ended his military service in grating tones when his tenure was not extended on the eve of the Gaza disengagement. Now, after a term as minister for strategic affairs, he is returning to run the entire system.

The man who led a hawkish line at the General Staff and in the government, who believed that Yasser Arafat had never deviated from his goal of destroying the state of Israel, who insisted that the paradigm of two states for two peoples was unworkable—will now navigate the security establishment, effectively oversee millions of Palestinians and deal with Israel's security and strategic challenges. Many on the dovish side of the political and military map fear that his line will drag Israel into diplomatic and security complications.