March 9, 2015, 2:25pm
Facebook
I talked over the weekend with a longtime friend – a committed Jew, active in Jewish communal life, and a strong supporter of Israel. He calls himself an independent but votes mostly Republican. On U.S. President Barack Obama, he is wary and reserved; he voted for him once but for his opponent the other time. And my friend is very, very worried about the threat that Iran poses to Israel's security.
When I asked for his thoughts on Prime Minister Benjamin Netanyahu's speech, I was taken aback by his reaction. He was angry; furious, in fact. He saw the speech as a wildly inappropriate orgy of Obama-bashing. As an American, he was offended – and worried. Had it ever happened before, he asked, that a foreign leader spoke to our Congress and launched a direct attack on the American administration? I told him that, to the best of my knowledge, it had not.
A couple I know with more or less the same Jewish commitments and political views responded similarly. They had watched the speech and felt that members of Congress were being bullied by a foreign leader. True, the leader in this instance was from a place they love dearly, have visited often, and advocate for vigorously. And yes, they are concerned about the dangers posed by an Iranian bomb. But Netanyahu's high-handed reprimand seemed out-of-place to them and the adoring responses more political than sincere. They saw the whole spectacle as an affront to American dignity. An American Congress with any self-respect, they said, should not tolerate being lectured in this manner.
And these were the Republicans.
March 9, 2015, 1:35pm
Getty Images
In his speech to the U.S. Congress, Israeli Prime Minister Benjamin Netanyahu effectively made the case that the emerging nuclear deal with Iran is a "very bad deal." But we would say that's actually a polite understatement; Netanyahu didn't go far enough. This is a dangerous deal — not only for Israel but for the entire region, the U.S. and the world.
According to media reports, Iran would reduce the number of centrifuges in operation to about 6,000 and its capacity to "breakout" of its treaty obligations and develop a bomb's worth of weapons-grade uranium would be set back to one year.
Let's say for the sake of argument that one year is enough time to respond to an Iranian rush to a bomb and we can live with that. Sounds good, right? After all, their current breakout capacity is about two months. We're told that Iran's nuclear program is being rolled back to the point that it will no longer pose an imminent danger to the security of America and its allies. So where's the problem?
March 4, 2015, 5:30pm
You haven't seen Bibi's speech until you've seen it like this.
Noy Alooshe, the Israeli remix king best known for his 2011 "Zenga Zenga" spoof, has outdone himself with a remix of his prime minister's speech to Congress.
In the video, Bibi bosses around the audience members like they're little kids, issuing alternating commands of "Sit!" and "Stand!" — a reference to a Hebrew children's song ("Ooga Ooga Lashevet Lakum"). He wins countless standing ovations with his constant refrain of "Iran! Bomb! Iran! Bomb!" And his juxtaposition of "Iran" and "Haman" seems to be a real crowd-pleaser, too.
Meanwhile, Jewish Home leader Naftali Bennett watches the livestream on TV, happily lapping up this show of American pageantry. Whenever he flips the channel, we get snippets of Yesh Atid leader Yair Lapid yelling "Yalla be-Karchana!" — loose translation: "Party hard!" — and of Meretz leader Zahava Gal-On flouncing around in her cringe-worthy campaign video. Both of these politicians look ridiculous — like flighty and superficial teenagers — by comparison to Bibi, who's all gravitas and scare tactics and feathery blue-white hair.
In between references to "Game of Thrones," "Google" and the Ayatollah's "tweets," Bibi's got Barack Obama and Joe Biden running laps. They look, well, like little lap dogs…and the total effect is pretty amazing.
Just try dancing to it!
March 4, 2015, 1:40pm
When Benjamin Netanyahu spoke to Congress about the dangers of a nuclear Iran, he couldn't resist drawing a parallel to that other time Jews were threatened by a "Persian potentate." (Extra points for vocab, Bibi!)
We, in turn, couldn't resist imagining the entire Purim story recast in Bibi terms.
Before the fun, the facts. Here's a refresher on what the Israeli prime minister said:
In our nearly 4,000 years of history, many have tried repeatedly to destroy the Jewish people. Tomorrow night, on the Jewish holiday of Purim, we'll read the Book of Esther. We'll read of a powerful Persian viceroy named Haman, who plotted to destroy the Jewish people some 2,500 years ago. But a courageous Jewish woman, Queen Esther, exposed the plot and gave for the Jewish people the right to defend themselves against their enemies. The plot was foiled. Our people were saved.

Today the Jewish people face another attempt by yet another Persian potentate to destroy us. Iran's Supreme Leader Ayatollah Khamenei spews the oldest hatred, the oldest hatred of anti-Semitism with the newest technology. He tweets that Israel must be annihilated — he tweets!
And now, we hope you enjoy these humble e-cards. Click on each one individually to share with your friends and spread the holiday cheer!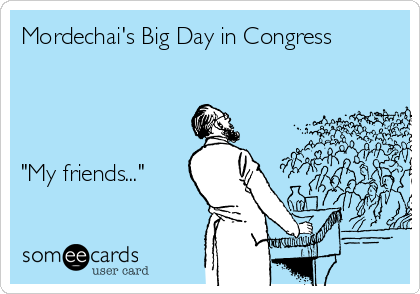 March 3, 2015, 4:00pm
House Democrats listen to Netanyahu's speech / Getty Images
As the echo of the sustained ovations that greeted Israeli Prime Minister Netanyahu's speech to a joint session of Congress began to fade, Democratic apologists for the Obama administration had a problem. For several weeks, the White House succeeded in focusing attention on the question of the alleged breach of protocol and partisanship that they claimed the invitation to Netanyahu represented. But once the address was actually delivered by the prime minister, this spin on events passed its expiration date.
Faced with Netanyahu's powerful arguments explaining why an Iran deal predicated on a series of Western retreats would be a disaster, the White House and the rest of the president's cheering section need to find a way to defend positions that have discarded the president's past pledges to end Iran's nuclear program. But, instead, they are reverting back to last week's talking points. It won't work.
Netanyahu laid out a cogent analysis of why a deal that leaves Iran in possession of its nuclear infrastructure and will eventually expire is an invitation for more Iranian cheating. But even if you believe that the U.S. has the sort of intelligence that would enable it to detect a nuclear breakout in time, the sunset clause that President Obama has discussed means, as Netanyahu pointed out, that even in the unlikely event that the Islamist regime abides by its terms, the deal may still lead to a nuclear Iran.
Moreover, contrary to his critics, Netanyahu did offer a realistic alternative to Obama's strategy of negotiation by capitulation. By returning to the path of tough sanctions (strengthened by the Kirk-Menendez bill now before Congress) that the president prematurely abandoned in 2013, there is a chance that the regime can be forced to negotiate terms that are consistent with the president's 2012 campaign promises. The president seems more intent on building a new détente with a terror-supporting, anti-Semitic regime bent on regional hegemony than in using the leverage he discarded.
March 3, 2015, 2:30pm
Getty Images / Lior Zaltzman
The case Netanyahu laid out against an Iran deal in his address to Congress revolves around 11 core arguments. Think they sound convincing? Look at those arguments one by one, and you'll see why each of them is bogus.
Argument #1. More pressure can secure a better deal with Iran than current negotiations. If Iran walks away from talks now, this pressure will eventually bring it back to the table, ready to make more compromises.
Pressure in the form of sanctions — especially multilateral, international sanctions — helped convince Iran to come to the negotiating table. But Iran's red lines in negotiations, including retaining some level of enrichment, are clear. Additional U.S. pressure now, aimed at forcing the Iranian regime "to its knees," is far more likely to scuttle talks than to force greater Iranian flexibility, and the failure of diplomacy would be blamed on the U.S., not Iran. One result: no deal to curtail Iran's nuclear program. Another result: strengthening those in Iran who support weaponization of the nuclear program as a deterrent against attack. And a third result: the almost certain collapse of the international sanctions regime, which has been critical to restraining Iran's nuclear program so far.
Argument #2. The only good deal with Iran is one that completely or nearly completely dismantles Iran's nuclear infrastructure, preventing Iran from enriching or limiting Iran to close to zero enrichment.
Zero enrichment or complete dismantlement of Iran's nuclear infrastructure is both unachievable and unnecessary. It's unachievable because just as U.S. negotiators must get a deal they can "sell" to their constituencies, Iranian negotiators must be able to sell a deal to their own constituencies as meeting their own red lines. And it's unnecessary because assuming "zero enrichment" and "complete dismantlement" are genuinely shorthand for "the best possible guarantee that Iran's nuclear program will remain peaceful," this goal can be achieved through a nuclear agreement that includes strict limits on Iran's enrichment capacity and stringent safeguards and transparency with respect to Iran's nuclear facilities and materials. Insisting on "zero enrichment" or "total dismantlement" guarantees no deal — which means it guarantees that such limits and safeguards are absent.
March 3, 2015, 2:00pm
Getty Images
Benjamin Netanyahu dramatically, effectively — and perhaps, dangerously — raised the stakes in his speech to Congress today.
The Israeli prime minister employed his considerable rhetorical skills to command the room, describing Iran in terms designed to frighten and excite, painting a ferocious picture of a nation hell bent on exporting its vicious brand of revolutionary terror and "gobbling up" nations all around its volatile region. And he did a masterful job of critiquing what he said are the current terms of an agreement being negotiated by the United States and other Western powers to curb Iran's nuclear ambitions, a deal that he claimed would "all but guarantee" that Iran would, sooner or later, become an atomic power with evil intentions.
Netanyahu may have accomplished what his Congressional patron, Republican House Speaker John Boehner, intended: To make it difficult, if not impossible, for lawmakers to approve the deal so ardently sought by President Obama. Netanyahu may well have also accomplished his main political motive in Washington: To secure his own reelection, by delivering a stirring speech laced with Jewish themes and a touch of Hebrew, beamed to prime-time Israel just weeks before it goes to the polls.
But this high stakes gamble also entails its own risks to the prime minister and the nation he wishes to continue to lead, and to the United States.
March 3, 2015, 1:30pm
Getty Images
Speaker of the House John Boehner,
President Pro Tem Senator Orrin Hatch,
Senator Majority Leader Mitch McConnell,
House Minority Leader Nancy Pelosi,
And House Majority Leader Kevin McCarthy,
I also want to acknowledge Senator, Democratic Leader Harry Reid. Harry, it's good to see you back on your feet. I guess it's true what they say, you can't keep a good man down.
My friends, I'm deeply humbled by the opportunity to speak for a third time before the most important legislative body in the world, the U.S. Congress. I want to thank you all for being here today. I know that my speech has been the subject of much controversy. I deeply regret that some perceive my being here as political. That was never my intention.
I want to thank you, Democrats and Republicans, for your common support for Israel, year after year, decade after decade. I know that no matter on which side of the aisle you sit, you stand with Israel. The remarkable alliance between Israel and the United States has always been above politics. It must always remain above politics. Because America and Israel, we share a common destiny, the destiny of promised lands that cherish freedom and offer hope. Israel is grateful for the support of America's people and of America's presidents, from Harry Truman to Barack Obama.
We appreciate all that President Obama has done for Israel. Now, some of that is widely known. Some of that is widely known, like strengthening security cooperation and intelligence sharing, opposing anti-Israel resolutions at the U.N.
Some of what the president has done for Israel is less well-known. I called him in 2010 when we had the Carmel forest fire, and he immediately agreed to respond to my request for urgent aid. In 2011, we had our embassy in Cairo under siege, and again, he provided vital assistance at the crucial moment. Or his support for more missile interceptors during our operation last summer when we took on Hamas terrorists. In each of those moments, I called the president, and he was there.
And some of what the president has done for Israel might never be known, because it touches on some of the most sensitive and strategic issues that arise between an American president and an Israeli prime minister. But I know it, and I will always be grateful to President Obama for that support.
And Israel is grateful to you, the American Congress, for your support, for supporting us in so many ways, especially in generous military assistance and missile defense, including Iron Dome. Last summer, millions of Israelis were protected from thousands of Hamas rockets because this capital dome helped build our Iron Dome.
Thank you, America. Thank you for everything you've done for Israel.
March 2, 2015, 2:55pm
Getty Images / Lior Zaltzman
On the eve of his departure to Washington this week, Benjamin Netanyahu told the Israeli press assembled on the airport tarmac that he had a "sacred duty" to do everything in his power to protect Israel and the Jewish people from existential threats. As Netanyahu has said nearly every time he's made a public address over the last decade or so, he believes that Iran is out to destroy the state of Israel. More recently, the Israeli prime minister has amped up his fear message with his frequent insistence that the only safe place for Jews to live is the state of Israel. In reality, Israel is a far more dangerous place for a Jew to live — just look at the relative casualty counts. And Netanyahu has not only made Israel a more dangerous place for Jews, but he has made them more vulnerable in the Diaspora as well.
In fact, you could argue that Netanyahu's policies have made Jews — in Israel and around the world — more vulnerable than they have been at any time since 1948.
On Netanyahu's watch, the Israeli military launched two military campaigns against Gaza in as many years. On both occasions, hundreds of thousands of Israeli civilians came under rocket fire from Gaza. Children spent their summers in bomb shelters, while parents living on the Gaza border tried to keep from panicking every time an air raid siren caught them more than 30 seconds from the nearest safe room. Seventy-one Israelis were killed in last summer's war, and another six were killed in the 2013 operation called Pillar of Defense. The media and military experts credited the air defense system known as Iron Dome with minimizing Israeli civilian casualties, with the Israeli foreign ministry even presenting a Hanukkah menorah designed like a mini Iron Dome to U.S. ambassador Dan Shapiro.
Iron Dome is, as most people know, funded by the United States, with emergency additional funding approved by Congress during last summer's war. Democratic Senator Dianne Feinstein was among the leaders of the initiative to expedite emergency help to Israel. But on Sunday she said on CNN's Face the Nation that Netanyahu was "arrogant" and "did not represent" her as a Jewish American. Will she be as quick to support Israel in the future, now that Netanyahu has so openly insulted President Obama and the Democrats? It's hard to say, but certainly dividing American support for Israel, which for years was unswerving and bipartisan, makes Israel look vulnerable in the international arena.
March 2, 2015, 1:50pm
Getty Images / Lior Zaltzman
Despite all the chatter to the contrary, it's important for Netanyahu to speak before Congress tomorrow — and we should all hear him out.
For those of us who don't yet see why — who focus too much on protocol and politics and L'Affaire Boehner and so may have missed some of the key substantive questions along the way — allow me to make the case for Bibi in a nutshell.
For months now, America's most important allies in the Middle East have been deeply troubled by the negotiations taking place between the P5+1 states and Iran over the latter's nuclear weapons program. Maybe it's the fact that the Administration stopped using the word "dismantle" when describing its demands. Or maybe they think the whole idea of turning the world's biggest terror supporter and destabilizing force into a "successful regional power" isn't very wise. Or maybe it was Tehran's decision to blow up a mock American aircraft carrier just when you'd expect them to be conditioning their public for a great reconciliation. For whatever reason, the very allies who have the most to lose by a bad deal — Saudis, Egyptians, Israelis and more — are highly concerned. They're really clamoring to be included and to have their voice heard before it's too late.
That's reason enough to hear another opinion other than that of the Administration.
In the last few weeks, however, the Netanyahu speech has also been mischaracterized in at least two big ways.
March 1, 2015, 4:18pm
Getty Images
(JTA) — Dear Prime Minister Netanyahu:
As American Jewish progressive Zionists, we are deeply worried about the threat that a nuclear-armed Iran would pose to Israel. We know you would like pro-Israel Jews to publicly defend your positions on Iran and your plans to speak to Congress next week. But we need some clarifications:
1) Is there any outcome you would endorse that Iran could conceivably accept?
You have made clear that you want Iran to be stripped of its nuclear capacity, without even a limited ability to enrich uranium. But people involved in the negotiations say the zero enrichment demand cannot be achieved because Iran would never accept it. If that is your demand, aren't you precluding any possibility of a negotiated deal?
You are reportedly going to call for tougher sanctions on Iran. If they are imposed, do you expect that any Iranian leader would survive if he proposed relinquishing all nuclear research and development, which has been a national priority since the days of the shah? We've searched hard and can't find any experts on Iran who believe that will be possible.
2) If you won't accept any agreement that could in fact be reached with Iranian leaders, what alternatives do you propose and how do you expect us to defend them?
February 6, 2015, 12:21pm
Let the finger-pointing begin.
Two weeks into the Bibi-gate (or perhaps Bohener-gate, or simply speech-gate) controversy, with no sign of Democratic anger subsiding, Benjamin Netanyahu and his allies are starting to look for excuses.
The defense Bibi has settled on can be summed up in three words: "It's Boehner's fault."
Policymakers and congressional staff members have been hearing this line in closed-door meetings with Israelis for the past week. Israelis, including Netanyahu's office and the Israeli embassy in Washington, have been arguing that they were blindsided by House Speaker John Boehner.
It was all, they say, one big misunderstanding.
According to this explanation, Netanyahu, through his ambassador to Washington Ron Dermer, had understood that Boehner would make sure that Democrats were on board with the idea of inviting the Israeli leader to address a joint meeting of Congress on the problem of Iran's nuclear development activities. Maybe not all Democratic leadership, but at least enough to allow all sides to say with a straight face that it was a bipartisan invitation.
Furthermore, Netanyahu and Dermer did not know — at least according to people who have been in touch with Israeli officials dealing with the mess created by the invitation — that Boehner would announce the visit the morning after President Obama delivered his State of the Union speech. The timing appeared designed to rebut the president's stand on Iran, thus infuriating the president and his fellow Democrats.
December 22, 2014, 2:50pm
Obama is caricatured as Che Guevara, an iconic symbol of Cuba's revolution, on the cover of Brazilian magazine Veja / Getty Images
As a life-long Democrat, I was deeply disturbed by the Obama Administration's decision to act unilaterally on the Cuban question. The policy option may have been a valid one, but the process invoked raises major concerns.
Realizing that his presidency would be without a Democratic majority in either the Senate or House for the remainder of his term, did Obama decide that his Administration would conduct the business of foreign policy outside of the traditional policy framework of bipartisanship?
The embargo on Cuba was set into place 54 years ago, in 1960. We need to remind ourselves that both Republicans and Democrats embraced the actions taken at that time by the Eisenhower Administration.
Obama's arbitrary action, taken without any public input or Congressional oversight, raises a set of challenging questions. Do each of the president's recent pronouncements, including his executive order on immigration and the Iran nuclear agreement, suggest a different framework for decision-making by this White House? Will we continue to see a series of new political pronouncements without the engagement of the Congress or the input of public opinion?
I introduce these questions in the context of my particular concern for the U.S.-Israel relationship. Could such a proactive decision-making pattern have some potential linkage to a change in America's special and historic relationship with Israel? Could the Administration's frustration with the Netanyahu government produce a similar outcome, namely a shift in its balance of support?
February 4, 2014, 12:35pm
Sanctions bill sponsor Sen. Robert Menendez addresses AIPAC annual policy conference, Washington Convention Center, March 5, 2013 / Getty Images
Efforts to pass a new Iran sanctions bill have not only stalled in the Senate, but appear to be slowing even in the House. Perhaps predictably, given the focus on AIPAC as the primary driver of the bill, observers are now wondering whether AIPAC has "over-reached" and been "weakened." While the failure of any lobby group to pass signature legislation dents its reputation, presumptions about AIPAC's coming vulnerability betray fundamental misconceptions about how foreign policy is made.
Foreign policymaking in the United States is an executive privilege. Presidents typically have a lot of leeway in this area. This is the result of constitutional authority, judicial reinforcement, and a general acceptance among lawmakers that presidential predominance in foreign affairs is both necessary and, by now, traditional.
Under these conditions, lobby groups have always had much more success with Congress than with presidents. Congress is a fractious body, with over 500 individual targets; the president is a single individual. Failures in Congress are more setbacks than anything else, given the multiple access points and the rolling nature of elections; failing to convince the president is a very public event, harder to overcome.
February 17, 2013, 4:05pm
In the coming weeks and months, Congress will enact sweeping reductions in federal spending, finalize the 2013 federal budget and raise the debt ceiling. The cuts that will come with these decisions are not merely numbers on a ledger; they will decimate programs that directly impact the lives of the most vulnerable among us and the ability of social service agencies to serve them.
For individuals with disabilities who are aspiring for healthy, independent lives, this is a particularly critical time. The unemployment rates we associate with the slow recovery from the Great Recession pale in comparison to the persistent lack of employment opportunities that have ever been available to the disability community. The disincentive to work inherent in our social safety net, and the inability for those relying on it to build assets, makes upward mobility even more difficult.
The growing challenge for non-profit agencies to provide home- and community-based care makes independent living for many individuals with disabilities an impossibility.
This is why dozens of advocates representing a broad range of Jewish communities, religious streams, social service providers and public policy organizations traveled to Capitol Hill on Tuesday to promote the Community First Choice (CFC) option in Medicaid and the Achieving a Better Life Experience (ABLE) Act, both of which further the goals of ensuring individuals with disabilities can lead healthy, independent lives.
During the month of February, Jewish communities across North America observe Jewish Disability Awareness Month. It is an opportunity to raise awareness of the needs, strengths, opportunities and challenges of individuals with disabilities in our communities and to ensure we are building more inclusive communities that celebrate everyone among us. It is also an opportunity for us to engage with lawmakers and express support for public policy initiatives that lead to better outcomes for the disability community.
January 9, 2013, 5:00am
Rep. Jerry Nadler (D-N.Y.) wants the government to mint a platinum coin worth…a cool $1 trillion..
Nadler, a Jewish Upper West Sider, thinks the minting of a ridiculously valuable coin could foil GOP attempts to hold Democrats hostage in debt ceiling negotiations. It would allow the government to pay its debts without going through Congress, which seems intent on dragging its feet on anything President Obama wants, especially after the bruising fiscal cliff drama.
"It sounds silly but it's absolutely legal," Nadler told the website Capital New York last week.
The idea's gained some traction recent days. Economist Paul Krugman endorsed the trillion dollar coin on Monday, as have others.
So here comes the backlash.
December 5, 2012, 3:06pm
Two Jewish lawmakers are moving up the ranks in the House of Representatives.
New York's Nita Lowey won the role of top Democrat on the House Appropriations committee and will be the first woman to ever serve as ranking member on this committee. "It is especially gratifying to be the first woman to lead either party on this powerful committee," Lowey said in a statement. She beat Ohio's Marcy Kaptur in a 36-10 vote in the House Democratic Steering and Policy Committee and was approved by the Democratic caucus. The appropriations committee is one of the most influential committees on Capitol Hill and serving as ranking member will make Lowey a significant player on all issues relating to government spending.
Lowey, 75, will continue, in addition, to serve as ranking member of the appropriation's subcommittee in charge of foreign aid and State Department budget. This position is key to supporters of Israel because of its role in overseeing U.S. aid to Israel.
Another New York Jewish member, Eliot Engel, is also moving up. Engel will serve as ranking member of the House Foreign Affairs Committee, a position previously held by Howard Berman, who lost his re-election bid.
The selection of Engel, who is third in tenure among Democrats in the committee, came after California's Brad Sherman, an early contender for the position, withdrew from the race. Sherman, who had beaten Berman in a heated congressional contest, lost favor among some in his own party after criticizing them during his race. After the elections, several Democrats from the California delegation made clear they will not support his bid for the post of ranking Democrat and Sherman was forced to withdraw and endorse Engel.
November 26, 2012, 8:01pm
With Congress plunging into talks to avoid the much-feared fiscal cliff, the Jewish community's umbrella organization for policy is cautiously weighing in.
In a letter to Congress, Rabbi Steve Gutow, the Jewish Council for Public Affairs's president and CEO, urged lawmakers to keep in mind the impact of budget cuts on the poor and needy when sitting down to discuss a compromise.
He pointedly avoided the biggest question of all: whether taxes should go up for the wealthiest Americans.
"We recognize the significant challenges facing our country's fiscal stability and the immense pressures to reduce the deficit," the letter to Congress states, "still we call on you to ensure that, in a nation as wealthy and generous as ours, every American is simultaneously provided the opportunity to fulfill his or her potential, and no American must live in a state of destitution."
Specifically, the JCPA is calling on members of Congress to avoid cuts to anti-poverty programs including food stamps (SNAP), Earned Income Tax Credit, unemployment insurance, nutrition programs for women and children, home energy assistance, and Medicaid. The group also asked that programs providing opportunities for those in need, such as Pell grants, will be spared from cuts.
"We believe that deficit reduction should be carefully calibrated to ensure that the most vulnerable among us are protected, opportunity for all is promoted, and justice is pursued," Gutow wrote.
While stressing the need to solve the budget deficit in a "bipartisan, civil fashion," the group, carefully tiptoed around the issue of tax hikes and made no reference to the administration position which proposed raising taxes for those earning more than $250,000 as a crucial measure alongside cuts in government spending. This seems to be in line with the Jewish federations umbrella group which has also avoided taking a stand on the issue of tax increases.
November 18, 2012, 9:53am
Jews had a bad year in terms of winning seats in Congress, falling from 39 members in both chambers in the 112th Congress to only 32 in the next one.
We pretty much predicted this outcome. But with the breakdown of the new Congress by religion, which was carried out by the Pew Forum it becomes clear that Jews fared worse than any other faith group in the 2012 elections.
"The biggest decline is among Jews," the research states, falling from 7% of Congress before the elections to 6% in the upcoming Congress which will be sworn-in in January.
Catholics stand out as the religious groups making the greatest gains, with 161 members in the 113th Congress, compared to 156 in the 112th, a trend that may be linked to the increased clout of Latino voters.
October 29, 2012, 5:00am
As the election enters its final stretch, the Forward is making some final projections for our congressional scorecard based on the latest polling results.
We now predict at least 31 Jews — 10 in the Senate and 21 in the House of Representatives — will serve in the next Congress, a slight rise from the initial projection of 30.
But the biggest shift doesn't change the numbers either way. We are now projecting that Rep. Brad Sherman will likely win his intramural fight with fellow Los Angeles Jewish Democratic Rep. Howard Berman.
The race, which ranked as one of the nastiest in the nation, has been seen as close from the beginning when they were thrown together to fight for one seat due to redistricting in the suburban San Fernando Valley. The two even nearly got into a physical altercation during debate. Berman had the backing of Democratic heavyweights, while Sherman held on to a strong ground operation.