March 25, 2015, 6:00pm
Illustration by Lior Zaltzman
In his speech to Congress a few weeks ago, Bibi concluded with a quote from none other than Moses, the great leader of the Jews and hero of Passover.
Indeed, many of his supporters might see him as a modern-day Moses, boldly rebuking the arrogant Pharaoh (whether Obama or the Ayatollah) and sticking up for the liberty of the Jewish people. Having been schooled in America — just like Moses raised in Pharaoh's house — he was able to go straight to the seat of power and speak in a smooth and elegant English on behalf of his nation.
True, Moses was "not a man of words" — not exactly the first description of Bibi that comes to mind — but the Prime Minister has had some speech malfunctions, too: just this week he had to apologize for "unintentionally" offending all Arab citizens of the State of Israel. So he can relate.
And just as Moses split the sea, Bibi has miraculously split the U.S. government along partisan lines regarding Israel — the Red Sea now totally red.
Still, some of his detractors see Bibi not as Moses but as the hated Pharaoh. From the Palestinian perspective, he is no less than a callous and oppressive slave-driver. To the Israeli left, he is the stubborn, arrogant leader prepared to lead his people to destruction rather than cave to pressure and just let the occupied territories go.
Besides, Pharaoh was given to frequent changes of heart, first letting the Jews go and then refusing only to reverse himself again. Bibi, too, has lately found himself supporting Palestinian statehood one day and adamantly rejecting it the next, until the following morning when he's back to supporting it. Sure, the political motivations were different — locusts and frogs for Pharaoh, voters and Obama for Bibi — but the flip flopping is the same.
The truth is, however, that Bibi is neither Moses nor Pharaoh. He's not a humble man with a profound mission of justice, but he's also not an egomaniacal tyrant fighting against God and nature and everything good.
So who is he?
March 23, 2015, 2:50pm
Activists from Center for Jewish Nonviolence replant trees on the Nassar family farm / Courtesy
Nothing has more depressed American Jewish progressives than the recent revelation that Israel will be facing four more years of Benjamin Netanyahu. Netanyahu's renewed reign spells continued rancor between the two countries American Jewish progressives care about. It means more troubling conversations about Zionism for campus Hillels. Most conspicuously, it means four more years of occupation, oppression and denial of rights carried out in the name of the Jews. The question for progressive Jews is, now what?
Peter Beinart sat on a J Street conference panel on Sunday and gave some recommendations. In particular, he rang a bell for American Jewish solidarity activism. In his words: "We need to think very hard and very creatively about how we amplify Palestinian nonviolent protest in the West Bank…the best way we could do that is to be there ourselves."
Yes, Beinart was suggesting that American Jews who oppose the occupation fly to Israel to stand in nonviolent solidarity with Palestinians in the occupied territories. What Beinart didn't mention is that there is a new organization doing just that. It's called the Center for Jewish Nonviolence. (Full disclosure: I have worked very closely with the Center and hold a position in its organizational structure.)
In the United States, Jews who seek an end to the occupation have tended towards various types of activism. At J Street, the discourse is political. At Jewish Voice for Peace, it's international. This has left the grassroots nonviolent direct action model relatively unexplored by North American Jews. Until now.
March 19, 2015, 11:35am
Illustration by Lior Zaltzman
Years ago, I was on the National Executive of the National Union of Students in Britain, elected ostensibly to defend Israel against rabid anti-Zionists. I have also trained Israel advocates on Birthright tours and on yearlong programs in Israel.
I am an Israel advocate, and I remain dedicated to defending Israel against unfair allegations, double standards, and demonization. But something in me has changed. Something has broken.
In order to defend Israel against its critics, at school and university, I would find myself defending Labour policies one year, Likud policies the next, then Kadima policies after that. I sounded like I was contradicting myself, and, of course, I was, because I wasn't really speaking for myself. I was acting as a self-appointed mouthpiece for whichever government happened to be in power. I saw that as my role, as a Jew in the Diaspora: to serve as an unofficial ambassador for a government I didn't elect. It's as if that role was part of what it meant to be a committed Jew in the Diaspora.
That is no longer the case. I'm now an Israeli citizen (albeit living overseas on a research fellowship in America). But the government due to emerge after these elections doesn't speak for me. And I will not speak for it. In fact, I don't see why anybody should.
This election has surely killed the myth that Israel advocacy demands defending a government; a myth that J Street was born to fight. Netanyahu won this election by taking peace off the table, and by racist scare-mongering. I will not sully my name in defense of this government and I don't expect Diaspora Jewry to do so either.
So what becomes of Israel advocacy — this deep seated desire in the soul of the Diaspora Jew to speak up for Israel — when the government is so far away from representing your outlook and values?
March 18, 2015, 12:45pm
What would happen if an Israeli coffee chain started a #RaceTogether campaign like Starbucks'? Nothing good, that's what. Getty Images/Starbucks
Benjamin Netanyahu confirmed everyone's worst fears about him when he launched a last-minute fear campaign on Tuesday, warning that "Arab voters are coming out in droves to the polls" — and proving that he is perfectly happy to win an election using racism.
Depressingly, predictably, Bibi's "the-Arabs-are-coming" bugaboo worked like a dream on the Israeli public, shoring up his base by swinging the right-wing vote toward him. But how will it play in America?
The answer is: very, very bad.
Or at least it should be.
March 13, 2015, 3:40am
Sen. Tim Kaine is a moderate Democrat who boycotted Benjamin Netanyahu's speech to Congress. Nathan Guttman, the Forward's Washington bureau chief, asks him about Iran and whether Democrats are drifting away from Israel.
Nathan Guttman: Did you face any political cost for deciding not to attend Netanyahu's speech?
Senator Tim Kaine: I'm not dumb, I knew not going to the speech might make some folks mad with me — there would be a political price, but I felt so strongly as a matter of principle that this was done in an entirely inappropriate way.
I'm a strongly pro-Israel Democrat, I've been to Prime Minister Netanyahu's office three times to talk to him about Iran during his current tenure as prime minister. I agree with many of his concerns, there are one or two that I don't agree with, but I agree with many of his concerns and I have sought out his opinion on this issue. But when I got back from Israel, the speech was announced, [and] it was, as we later learned, carefully designed to keep the White House out, to keep all congressional Democrats in the dark, even those of us who had been strong pro-Israel supporters, and in my view it was being done purely to try and influence the Israeli elections and demonstrate American support for one person and one party, which is something we should never do.
My concern about the real purpose of the speech was sort of demonstrated by the speech itself. For the prime minister to stand up and say 'this is a bad deal' when there is no deal, just sort of made my point. If we wait until after the elections and extended a bipartisan invitation after a framework had been announced, then the prime minister could have come and talked about a framework of a deal that was actually on the table, and pointed out the good, the bad, the ugly – here's what's good, here's what's bad. But instead, because there isn't a deal on the table and there are even some elements of the deal being negotiated that I think are really logical that the prime minister knows [but] which he chose not to spend any time on, it was just an exercise to paint a straw man and knock it down. And I viewed it as purely an exercise focused on the politics, not the important substance.
NG: What is it about Netanyahu's concerns regarding the Iranian deal that you agree with?
March 12, 2015, 2:45pm
Knesset Members from Israeli Arab parties announce a joint list in Israel's election / Getty Images
"Bibi, Buji, Zehava and Issawi: All of the Jews are the same," noted leaders of the Arab Balad party at a recent executive meeting.
Balad Party activists are willing to lump together Netanyahu with Meretz Chairwoman Zehava Gal-On, who supports the Arab Peace Initiative and the division of Jerusalem. Even more offensive is the derision expressed toward Arab MK Issawi Frej of Meretz merely because he joined a Zionist party, despite being left-wing and promoting Palestinian statehood.
The Balad Party's mentality is representative of a larger problem within the Joint Arab List: the refusal to sit in a coalition led by Labor. Despite the Joint Arab List's animosity toward Netanyahu and his settlement policy, such actions will only guarantee that Likud will continue to rule Israel during the next term.
Despite relatively promising numbers with Labor leading in many polls, Herzog will have an exceedingly difficult time forming a coalition following the elections. Shas's Aryeh Deri announced that he will support Netanyahu and Avigdor Lieberman emphasized that he won't join a leftist government. In the current formulations, it looks nearly impossible for Herzog to build a coalition with such diverse and conflicting partners.
But with the Arab party's growing popularity — it's now the third largest Knesset party with 12-13 seats according multiple recent polls — the dynamics could change. If the Arab party were to join Labor, Meretz, Yesh Atid and Kahlon's Kulanu, the left wing would have the strength to depose Netanyahu and form an alternative coalition.
Unfortunately, the Arab party has repeatedly rejected any future willingness to sit in a coalition led by Labor, with Arab MK Jamal Zahlaka calling the Zionist Union a second-rate Likud.
March 12, 2015, 12:50pm
Rotating campaign billboard shows Netanyahu and Labor Party leader Isaac Herzog / Getty Images
No one even dared speculate about it before. Only now, less than a week before they go to the polls on March 17, Israelis are finally allowing themselves to seriously consider the possibility that Prime Minister Benjamin Netanyahu might actually lose this election.
Depending on who they are, the prospect fills them with elation or dread. Either way, it feels surreal.
For the whole of this short and dizzying election campaign, the possibility that Netanyahu could go down has been viewed as incredibly far-fetched. After all, it was Bibi himself who ended his previous government and set the ball rolling for new elections. Why in the world would he do such a thing if he didn't have utter confidence in his victory? The purpose of early elections, only halfway through his term, was to strengthen his hand: a stronger Likud with more reliable coalition partners would make the country more governable, he reasoned.
If Netanyahu had possessed a crystal ball back in December and could have foreseen the latest poll numbers, he might have thought twice before making such a move. The Zionist Union led by Isaac Herzog and Tzipi Livni is now projected in multiple polls as pulling ahead of Likud by three to five seats, and some of the centrist and religious parties are publicly winking in their direction, while turning a colder shoulder to the Likud. This very well might give Herzog and company the first crack at putting together a ruling coalition.
And so for the first time, Israelis dare to ask themselves: "What happens if Bibi loses?"
March 9, 2015, 2:25pm
Facebook
I talked over the weekend with a longtime friend – a committed Jew, active in Jewish communal life, and a strong supporter of Israel. He calls himself an independent but votes mostly Republican. On U.S. President Barack Obama, he is wary and reserved; he voted for him once but for his opponent the other time. And my friend is very, very worried about the threat that Iran poses to Israel's security.
When I asked for his thoughts on Prime Minister Benjamin Netanyahu's speech, I was taken aback by his reaction. He was angry; furious, in fact. He saw the speech as a wildly inappropriate orgy of Obama-bashing. As an American, he was offended – and worried. Had it ever happened before, he asked, that a foreign leader spoke to our Congress and launched a direct attack on the American administration? I told him that, to the best of my knowledge, it had not.
A couple I know with more or less the same Jewish commitments and political views responded similarly. They had watched the speech and felt that members of Congress were being bullied by a foreign leader. True, the leader in this instance was from a place they love dearly, have visited often, and advocate for vigorously. And yes, they are concerned about the dangers posed by an Iranian bomb. But Netanyahu's high-handed reprimand seemed out-of-place to them and the adoring responses more political than sincere. They saw the whole spectacle as an affront to American dignity. An American Congress with any self-respect, they said, should not tolerate being lectured in this manner.
And these were the Republicans.
March 9, 2015, 1:35pm
Getty Images
In his speech to the U.S. Congress, Israeli Prime Minister Benjamin Netanyahu effectively made the case that the emerging nuclear deal with Iran is a "very bad deal." But we would say that's actually a polite understatement; Netanyahu didn't go far enough. This is a dangerous deal — not only for Israel but for the entire region, the U.S. and the world.
According to media reports, Iran would reduce the number of centrifuges in operation to about 6,000 and its capacity to "breakout" of its treaty obligations and develop a bomb's worth of weapons-grade uranium would be set back to one year.
Let's say for the sake of argument that one year is enough time to respond to an Iranian rush to a bomb and we can live with that. Sounds good, right? After all, their current breakout capacity is about two months. We're told that Iran's nuclear program is being rolled back to the point that it will no longer pose an imminent danger to the security of America and its allies. So where's the problem?
March 4, 2015, 5:30pm
You haven't seen Bibi's speech until you've seen it like this.
Noy Alooshe, the Israeli remix king best known for his 2011 "Zenga Zenga" spoof, has outdone himself with a remix of his prime minister's speech to Congress.
In the video, Bibi bosses around the audience members like they're little kids, issuing alternating commands of "Sit!" and "Stand!" — a reference to a Hebrew children's song ("Ooga Ooga Lashevet Lakum"). He wins countless standing ovations with his constant refrain of "Iran! Bomb! Iran! Bomb!" And his juxtaposition of "Iran" and "Haman" seems to be a real crowd-pleaser, too.
Meanwhile, Jewish Home leader Naftali Bennett watches the livestream on TV, happily lapping up this show of American pageantry. Whenever he flips the channel, we get snippets of Yesh Atid leader Yair Lapid yelling "Yalla be-Karchana!" — loose translation: "Party hard!" — and of Meretz leader Zahava Gal-On flouncing around in her cringe-worthy campaign video. Both of these politicians look ridiculous — like flighty and superficial teenagers — by comparison to Bibi, who's all gravitas and scare tactics and feathery blue-white hair.
In between references to "Game of Thrones," "Google" and the Ayatollah's "tweets," Bibi's got Barack Obama and Joe Biden running laps. They look, well, like little lap dogs…and the total effect is pretty amazing.
Just try dancing to it!
March 4, 2015, 1:40pm
When Benjamin Netanyahu spoke to Congress about the dangers of a nuclear Iran, he couldn't resist drawing a parallel to that other time Jews were threatened by a "Persian potentate." (Extra points for vocab, Bibi!)
We, in turn, couldn't resist imagining the entire Purim story recast in Bibi terms.
Before the fun, the facts. Here's a refresher on what the Israeli prime minister said:
In our nearly 4,000 years of history, many have tried repeatedly to destroy the Jewish people. Tomorrow night, on the Jewish holiday of Purim, we'll read the Book of Esther. We'll read of a powerful Persian viceroy named Haman, who plotted to destroy the Jewish people some 2,500 years ago. But a courageous Jewish woman, Queen Esther, exposed the plot and gave for the Jewish people the right to defend themselves against their enemies. The plot was foiled. Our people were saved.

Today the Jewish people face another attempt by yet another Persian potentate to destroy us. Iran's Supreme Leader Ayatollah Khamenei spews the oldest hatred, the oldest hatred of anti-Semitism with the newest technology. He tweets that Israel must be annihilated — he tweets!
And now, we hope you enjoy these humble e-cards. Click on each one individually to share with your friends and spread the holiday cheer!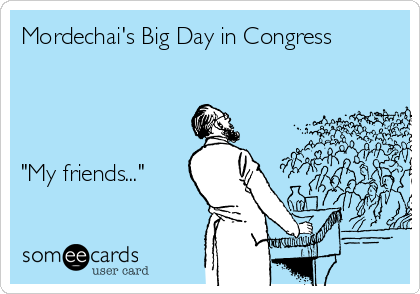 March 3, 2015, 4:00pm
House Democrats listen to Netanyahu's speech / Getty Images
As the echo of the sustained ovations that greeted Israeli Prime Minister Netanyahu's speech to a joint session of Congress began to fade, Democratic apologists for the Obama administration had a problem. For several weeks, the White House succeeded in focusing attention on the question of the alleged breach of protocol and partisanship that they claimed the invitation to Netanyahu represented. But once the address was actually delivered by the prime minister, this spin on events passed its expiration date.
Faced with Netanyahu's powerful arguments explaining why an Iran deal predicated on a series of Western retreats would be a disaster, the White House and the rest of the president's cheering section need to find a way to defend positions that have discarded the president's past pledges to end Iran's nuclear program. But, instead, they are reverting back to last week's talking points. It won't work.
Netanyahu laid out a cogent analysis of why a deal that leaves Iran in possession of its nuclear infrastructure and will eventually expire is an invitation for more Iranian cheating. But even if you believe that the U.S. has the sort of intelligence that would enable it to detect a nuclear breakout in time, the sunset clause that President Obama has discussed means, as Netanyahu pointed out, that even in the unlikely event that the Islamist regime abides by its terms, the deal may still lead to a nuclear Iran.
Moreover, contrary to his critics, Netanyahu did offer a realistic alternative to Obama's strategy of negotiation by capitulation. By returning to the path of tough sanctions (strengthened by the Kirk-Menendez bill now before Congress) that the president prematurely abandoned in 2013, there is a chance that the regime can be forced to negotiate terms that are consistent with the president's 2012 campaign promises. The president seems more intent on building a new détente with a terror-supporting, anti-Semitic regime bent on regional hegemony than in using the leverage he discarded.
March 3, 2015, 2:30pm
Getty Images / Lior Zaltzman
The case Netanyahu laid out against an Iran deal in his address to Congress revolves around 11 core arguments. Think they sound convincing? Look at those arguments one by one, and you'll see why each of them is bogus.
Argument #1. More pressure can secure a better deal with Iran than current negotiations. If Iran walks away from talks now, this pressure will eventually bring it back to the table, ready to make more compromises.
Pressure in the form of sanctions — especially multilateral, international sanctions — helped convince Iran to come to the negotiating table. But Iran's red lines in negotiations, including retaining some level of enrichment, are clear. Additional U.S. pressure now, aimed at forcing the Iranian regime "to its knees," is far more likely to scuttle talks than to force greater Iranian flexibility, and the failure of diplomacy would be blamed on the U.S., not Iran. One result: no deal to curtail Iran's nuclear program. Another result: strengthening those in Iran who support weaponization of the nuclear program as a deterrent against attack. And a third result: the almost certain collapse of the international sanctions regime, which has been critical to restraining Iran's nuclear program so far.
Argument #2. The only good deal with Iran is one that completely or nearly completely dismantles Iran's nuclear infrastructure, preventing Iran from enriching or limiting Iran to close to zero enrichment.
Zero enrichment or complete dismantlement of Iran's nuclear infrastructure is both unachievable and unnecessary. It's unachievable because just as U.S. negotiators must get a deal they can "sell" to their constituencies, Iranian negotiators must be able to sell a deal to their own constituencies as meeting their own red lines. And it's unnecessary because assuming "zero enrichment" and "complete dismantlement" are genuinely shorthand for "the best possible guarantee that Iran's nuclear program will remain peaceful," this goal can be achieved through a nuclear agreement that includes strict limits on Iran's enrichment capacity and stringent safeguards and transparency with respect to Iran's nuclear facilities and materials. Insisting on "zero enrichment" or "total dismantlement" guarantees no deal — which means it guarantees that such limits and safeguards are absent.
March 3, 2015, 2:00pm
Getty Images
Benjamin Netanyahu dramatically, effectively — and perhaps, dangerously — raised the stakes in his speech to Congress today.
The Israeli prime minister employed his considerable rhetorical skills to command the room, describing Iran in terms designed to frighten and excite, painting a ferocious picture of a nation hell bent on exporting its vicious brand of revolutionary terror and "gobbling up" nations all around its volatile region. And he did a masterful job of critiquing what he said are the current terms of an agreement being negotiated by the United States and other Western powers to curb Iran's nuclear ambitions, a deal that he claimed would "all but guarantee" that Iran would, sooner or later, become an atomic power with evil intentions.
Netanyahu may have accomplished what his Congressional patron, Republican House Speaker John Boehner, intended: To make it difficult, if not impossible, for lawmakers to approve the deal so ardently sought by President Obama. Netanyahu may well have also accomplished his main political motive in Washington: To secure his own reelection, by delivering a stirring speech laced with Jewish themes and a touch of Hebrew, beamed to prime-time Israel just weeks before it goes to the polls.
But this high stakes gamble also entails its own risks to the prime minister and the nation he wishes to continue to lead, and to the United States.
March 3, 2015, 1:30pm
Getty Images
Speaker of the House John Boehner,
President Pro Tem Senator Orrin Hatch,
Senator Majority Leader Mitch McConnell,
House Minority Leader Nancy Pelosi,
And House Majority Leader Kevin McCarthy,
I also want to acknowledge Senator, Democratic Leader Harry Reid. Harry, it's good to see you back on your feet. I guess it's true what they say, you can't keep a good man down.
My friends, I'm deeply humbled by the opportunity to speak for a third time before the most important legislative body in the world, the U.S. Congress. I want to thank you all for being here today. I know that my speech has been the subject of much controversy. I deeply regret that some perceive my being here as political. That was never my intention.
I want to thank you, Democrats and Republicans, for your common support for Israel, year after year, decade after decade. I know that no matter on which side of the aisle you sit, you stand with Israel. The remarkable alliance between Israel and the United States has always been above politics. It must always remain above politics. Because America and Israel, we share a common destiny, the destiny of promised lands that cherish freedom and offer hope. Israel is grateful for the support of America's people and of America's presidents, from Harry Truman to Barack Obama.
We appreciate all that President Obama has done for Israel. Now, some of that is widely known. Some of that is widely known, like strengthening security cooperation and intelligence sharing, opposing anti-Israel resolutions at the U.N.
Some of what the president has done for Israel is less well-known. I called him in 2010 when we had the Carmel forest fire, and he immediately agreed to respond to my request for urgent aid. In 2011, we had our embassy in Cairo under siege, and again, he provided vital assistance at the crucial moment. Or his support for more missile interceptors during our operation last summer when we took on Hamas terrorists. In each of those moments, I called the president, and he was there.
And some of what the president has done for Israel might never be known, because it touches on some of the most sensitive and strategic issues that arise between an American president and an Israeli prime minister. But I know it, and I will always be grateful to President Obama for that support.
And Israel is grateful to you, the American Congress, for your support, for supporting us in so many ways, especially in generous military assistance and missile defense, including Iron Dome. Last summer, millions of Israelis were protected from thousands of Hamas rockets because this capital dome helped build our Iron Dome.
Thank you, America. Thank you for everything you've done for Israel.
March 2, 2015, 2:55pm
Getty Images / Lior Zaltzman
On the eve of his departure to Washington this week, Benjamin Netanyahu told the Israeli press assembled on the airport tarmac that he had a "sacred duty" to do everything in his power to protect Israel and the Jewish people from existential threats. As Netanyahu has said nearly every time he's made a public address over the last decade or so, he believes that Iran is out to destroy the state of Israel. More recently, the Israeli prime minister has amped up his fear message with his frequent insistence that the only safe place for Jews to live is the state of Israel. In reality, Israel is a far more dangerous place for a Jew to live — just look at the relative casualty counts. And Netanyahu has not only made Israel a more dangerous place for Jews, but he has made them more vulnerable in the Diaspora as well.
In fact, you could argue that Netanyahu's policies have made Jews — in Israel and around the world — more vulnerable than they have been at any time since 1948.
On Netanyahu's watch, the Israeli military launched two military campaigns against Gaza in as many years. On both occasions, hundreds of thousands of Israeli civilians came under rocket fire from Gaza. Children spent their summers in bomb shelters, while parents living on the Gaza border tried to keep from panicking every time an air raid siren caught them more than 30 seconds from the nearest safe room. Seventy-one Israelis were killed in last summer's war, and another six were killed in the 2013 operation called Pillar of Defense. The media and military experts credited the air defense system known as Iron Dome with minimizing Israeli civilian casualties, with the Israeli foreign ministry even presenting a Hanukkah menorah designed like a mini Iron Dome to U.S. ambassador Dan Shapiro.
Iron Dome is, as most people know, funded by the United States, with emergency additional funding approved by Congress during last summer's war. Democratic Senator Dianne Feinstein was among the leaders of the initiative to expedite emergency help to Israel. But on Sunday she said on CNN's Face the Nation that Netanyahu was "arrogant" and "did not represent" her as a Jewish American. Will she be as quick to support Israel in the future, now that Netanyahu has so openly insulted President Obama and the Democrats? It's hard to say, but certainly dividing American support for Israel, which for years was unswerving and bipartisan, makes Israel look vulnerable in the international arena.
March 2, 2015, 1:50pm
Getty Images / Lior Zaltzman
Despite all the chatter to the contrary, it's important for Netanyahu to speak before Congress tomorrow — and we should all hear him out.
For those of us who don't yet see why — who focus too much on protocol and politics and L'Affaire Boehner and so may have missed some of the key substantive questions along the way — allow me to make the case for Bibi in a nutshell.
For months now, America's most important allies in the Middle East have been deeply troubled by the negotiations taking place between the P5+1 states and Iran over the latter's nuclear weapons program. Maybe it's the fact that the Administration stopped using the word "dismantle" when describing its demands. Or maybe they think the whole idea of turning the world's biggest terror supporter and destabilizing force into a "successful regional power" isn't very wise. Or maybe it was Tehran's decision to blow up a mock American aircraft carrier just when you'd expect them to be conditioning their public for a great reconciliation. For whatever reason, the very allies who have the most to lose by a bad deal — Saudis, Egyptians, Israelis and more — are highly concerned. They're really clamoring to be included and to have their voice heard before it's too late.
That's reason enough to hear another opinion other than that of the Administration.
In the last few weeks, however, the Netanyahu speech has also been mischaracterized in at least two big ways.
March 1, 2015, 4:18pm
Getty Images
(JTA) — Dear Prime Minister Netanyahu:
As American Jewish progressive Zionists, we are deeply worried about the threat that a nuclear-armed Iran would pose to Israel. We know you would like pro-Israel Jews to publicly defend your positions on Iran and your plans to speak to Congress next week. But we need some clarifications:
1) Is there any outcome you would endorse that Iran could conceivably accept?
You have made clear that you want Iran to be stripped of its nuclear capacity, without even a limited ability to enrich uranium. But people involved in the negotiations say the zero enrichment demand cannot be achieved because Iran would never accept it. If that is your demand, aren't you precluding any possibility of a negotiated deal?
You are reportedly going to call for tougher sanctions on Iran. If they are imposed, do you expect that any Iranian leader would survive if he proposed relinquishing all nuclear research and development, which has been a national priority since the days of the shah? We've searched hard and can't find any experts on Iran who believe that will be possible.
2) If you won't accept any agreement that could in fact be reached with Iranian leaders, what alternatives do you propose and how do you expect us to defend them?
February 19, 2015, 11:15am
Illustration by Lior Zaltzman
Prime Minister Netanyahu's decision to accept an invitation to speak before the U.S. Congress about Iran has ignited a rancorous debate within the American Jewish community. Some argue that the speech will alienate Democrats and undermine bipartisan support for Israel. Others say that a potential U.S. deal with Iran leaving the mullahs' nuclear capacity intact so threatens Israel's security that it justifies the risk of alienating President Obama.
But no matter what side of the debate American Jewish protagonists come down on, they have a clear appreciation for what's at stake. They know that many American Jews feel caught in between support for Israel's right to advocate its position on Iran to the world and deference to the president's prerogative to define American foreign policy. They are well aware that American Jewish support for Israel can be complicated by Israel's conduct, real and perceived, toward American political leaders.
Most Israelis, by contrast, have little awareness of the complexity of American Jewish support for Israel, according to a poll of Israeli attitudes recently commissioned by our foundation. Such lack of awareness can have severe consequences for Israel's relationship with the U.S. and, by extension, Israel's security.
February 6, 2015, 12:21pm
Let the finger-pointing begin.
Two weeks into the Bibi-gate (or perhaps Bohener-gate, or simply speech-gate) controversy, with no sign of Democratic anger subsiding, Benjamin Netanyahu and his allies are starting to look for excuses.
The defense Bibi has settled on can be summed up in three words: "It's Boehner's fault."
Policymakers and congressional staff members have been hearing this line in closed-door meetings with Israelis for the past week. Israelis, including Netanyahu's office and the Israeli embassy in Washington, have been arguing that they were blindsided by House Speaker John Boehner.
It was all, they say, one big misunderstanding.
According to this explanation, Netanyahu, through his ambassador to Washington Ron Dermer, had understood that Boehner would make sure that Democrats were on board with the idea of inviting the Israeli leader to address a joint meeting of Congress on the problem of Iran's nuclear development activities. Maybe not all Democratic leadership, but at least enough to allow all sides to say with a straight face that it was a bipartisan invitation.
Furthermore, Netanyahu and Dermer did not know — at least according to people who have been in touch with Israeli officials dealing with the mess created by the invitation — that Boehner would announce the visit the morning after President Obama delivered his State of the Union speech. The timing appeared designed to rebut the president's stand on Iran, thus infuriating the president and his fellow Democrats.