March 16, 2015, 2:00pm
If you want to see in one shot why many Israel observers are tearing their hair out in response to the country's electoral process, feast your eyes on this cool infographic from the Economist.
The chart shows the breakdown of each election since 1949 until the projected results of tomorrow's vote. At the top are election years dominated by the mega party of Mapai, and after 1973 by Labor and Likud, each taking equally large chunks. But by the mid-1990s we begin to see the situation that has led today to a feeling of paralysis — lots of smaller parties each biting off sizable fractions out of the total of 120 seats, but no one winning more than 30.
If there's a case to be made for electoral reform, this pretty much captures it.
March 16, 2015, 11:16am
After voting many Israelis will have a picnic or go to the beach — no matter whom they vote for / Getty Images
(JTA) — "Whom to vote for and whom not to vote for?"
Thus begins page 17 of the Talmud's Tractate Voters. It continues: "One should not vote for Likud or Zionist Union or Shas or Yachad or Kulanu or Meretz or the Arabs or Israel Is Our Home or Yahadut HaTorah or The Jewish Home or Yesh Atid, but, rather, solely for the empty ballot itself."
This page of Talmudic commentary (scroll down to see it) was penned not by a second century rabbinic sage but by Doron Chitiz, a Judaic-studies teacher in the Israeli city of Raanana who, in the spirit of the recent Purim holiday, injected some cynicism into the otherwise heavy political campaign preceding Tuesday's elections.
The South Africa-born Chitiz, 29, studied in yeshiva during college and ably employed the Talmudic style in his spoof, including abundant biblical citations and rabbinical-logical conclusions.
While writing previous Talmudic-themed Purim spiels — those tackled alcohol and soft-drink choices — Chitiz created a template for the body of the text along with faux analysis in the two margins by 11th-century scholar Rashi and the medieval commentators known as Tosafot, blending Hebrew and Aramaic and employing Rashi's particular typography.
This year's edition is so sharp that readers might imagine those rabbinic legends duly impressed, nodding in affirmation while stifling guffaws.
Chitiz, who will vote for Prime Minister Binyamin Netanyahu's Likud Party, is an equal-opportunity skewer.
March 15, 2015, 4:00pm
A still from The Daily Show's segment on eruvs, showing an "eruv hat"
If Jack O'Dwyer didn't exist, Jon Stewart might have invented him.
You might remember The Daily Show's hilarious 2011 video report on the bitter controversy surrounding a proposed eruv (religious boundary) in Westhampton Beach, New York. Simply by venting to correspondent Wyatt Cenac, both the pro-eruv Jews and the anti-eruv Jews came off a little unhinged.
Here's a refresher:
In January, the eruv's supporters prevailed in court. Some locals hoped the furor might finally die down.
Enter Jack O'Dwyer.
The publisher of media-industry magazines, O'Dwyer is taking the eruv decision personally — very personally. A 30-year Westhampton Beach resident, he's dedicating half of his weekly O'Dwyer's newsletter, which covers the public-relations business, to what he sees as a kind of conspiracy around the eruv decision. (And blood-sucking mohels. And the salaries of local rabbis.) He's running headlines like "'Reasonable Observer' No Longer Fooled by Eruv," "Horde of Lawyers Chips Away at American Freedoms," and "Hampton's Eruv (Jewish Religious Boundary) May Be A Fake."
What does the eruv debate have to do with the businesses he covers?
"That's a stupid question," he fumed to the Forward in a phone interview from his Manhattan office. "It's an annoying question. We reporters are here to tell the truth. This has been a hurricane of lies. Lawyers in this case have already made more than a million dollars. And everyone I know out there is disgusted by it."
People in the Hamptons, O'Dwyer claims, are being "terrorized" by eruv proponents. "The Hasidic black hats and the EEEA [East End Eruv Association] are terrorists. The last time we looked, there were only five Orthodox families around here. This is total interference of church and state."
March 15, 2015, 12:00pm
Swarthmore Hillel students
It was 5:25pm when I walked into the room full of murmuring college students. Swarthmore Hillel's first event addressing the conflict in Israel and Palestine was about to begin. I took my seat among the 60 other students, who were all chatting amiably and nervously, waiting for the event to start. I was terrified. This was the first test of more than a year's worth of planning, trying to answer the question: "What does being 'open' mean for us?"
As a college freshman, I had no idea how to engage with the conflict in Israel-Palestine. The issue felt too messy and too personal to even touch. But when Swarthmore Hillel declared itself "open" in December 2013, I thought that getting involved might be a good way to learn about this notoriously difficult topic.
I ended up on Swarthmore Hillel's student committee tasked with figuring out how we were going to be an Open Hillel. The world outside of Swarthmore was filled with newspapers, alumni, and organizations who already thought they knew exactly what being "open" meant. For us, however, it was a complicated practical question. We were faced with how to bring together a real, diverse Jewish student community.
We knew from experience how hard it was for most Jewish students to talk about the conflict in Israel-Palestine. I had heard horror stories of the "old days" when any mention of Israel regularly turned Swarthmore Hillel board meetings into shouting matches. We wanted to do better. Much better.
Two weeks ago, after a year of planning, we began with a panel of Jewish students sharing their personal stories about their relationships with Israel. We chose students of diverse perspectives, who didn't fit neatly into conventional political boxes. I worked closely with two of the students to help them prepare their narratives.
March 13, 2015, 5:00am
Courtesy of Marcel Lozinski
On July 10, 1941, the Polish villagers of Jedwabne engaged in a mad orgy of torture and murder, aimed at their Jewish neighbors. Anna Bikont, a Polish journalist and columnist, tells this horrifying story in her new book, "The Crime and the Silence." Part history, part memoir, the book will be published by Farrar, Straus and Giroux September.
Bikont, 61, writes for Gazeta Wyborcza, one of the largest newspapers in Poland. Her column focuses on culture and on Polish-Jewish relations. But she did not learn she was Jewish until she was 33 years old.
The massacre in Jedwabne, a small village 85 miles northeast of Warsaw, was suppressed for 60 years, until historian Jan Gross exposed the atrocity in his seminal book, "Neighbors," published in 2000. He blamed the Poles for the massacre. The book ignited a national uproar over who was guilty for this slaughter of Jews: the Germans or the Poles. It also brought about soul-searching and self-examination for residents and decendents of Jedwabne.
Bikont decided there was more to write about Jedwabne. She spent four years combing through archives and interviewing residents who survived the period of war. She found that the Jews of Jedwabne were bludgeoned, knifed and drowned. Those not already dead were locked in a barn and burned alive, while a band played to drown out their cries. Estimates of the death toll vary, but Bikont puts the number at 900.
Today a stone monument stands as a memorial near the barn where the Jews were murdered. But no blame is assigned. The Forward's Donald Snyder spoke with Bikont about her book, its perspectives of heroes and perpetrators, and the portrait of a Polish village that looks at its dark past.
Donald Snyder: What does your book tell us?
Anna Bikont: My book is about what happened then and whether today's residents have faced the past. I spoke to some people who were the children of the murderers. Some of them witnessed the massacre, and they remember the names of their schoolmates who were murdered. They saw their Jewish friends beaten by their fathers and their uncles. It was a horrible experience. The Jews attended the Polish school because they were too poor to have their own.
March 13, 2015, 3:40am
Sen. Tim Kaine is a moderate Democrat who boycotted Benjamin Netanyahu's speech to Congress. Nathan Guttman, the Forward's Washington bureau chief, asks him about Iran and whether Democrats are drifting away from Israel.
Nathan Guttman: Did you face any political cost for deciding not to attend Netanyahu's speech?
Senator Tim Kaine: I'm not dumb, I knew not going to the speech might make some folks mad with me — there would be a political price, but I felt so strongly as a matter of principle that this was done in an entirely inappropriate way.
I'm a strongly pro-Israel Democrat, I've been to Prime Minister Netanyahu's office three times to talk to him about Iran during his current tenure as prime minister. I agree with many of his concerns, there are one or two that I don't agree with, but I agree with many of his concerns and I have sought out his opinion on this issue. But when I got back from Israel, the speech was announced, [and] it was, as we later learned, carefully designed to keep the White House out, to keep all congressional Democrats in the dark, even those of us who had been strong pro-Israel supporters, and in my view it was being done purely to try and influence the Israeli elections and demonstrate American support for one person and one party, which is something we should never do.
My concern about the real purpose of the speech was sort of demonstrated by the speech itself. For the prime minister to stand up and say 'this is a bad deal' when there is no deal, just sort of made my point. If we wait until after the elections and extended a bipartisan invitation after a framework had been announced, then the prime minister could have come and talked about a framework of a deal that was actually on the table, and pointed out the good, the bad, the ugly – here's what's good, here's what's bad. But instead, because there isn't a deal on the table and there are even some elements of the deal being negotiated that I think are really logical that the prime minister knows [but] which he chose not to spend any time on, it was just an exercise to paint a straw man and knock it down. And I viewed it as purely an exercise focused on the politics, not the important substance.
NG: What is it about Netanyahu's concerns regarding the Iranian deal that you agree with?
March 12, 2015, 5:45pm
With only a few days to go until the election, Israeli co-leaders of the Zionist Union — Tzipi Livni and Isaac Herzog (aka Buji) — wanted to do a little last-minute politicking. So they visited Tel Aviv's outdoor Carmel Market.
They were really excited about it.
REALLY excited.
See, we eat pears! We're personable!
Could this strawberry BE any bigger?!
Glad-handing over the avocados because WHY NOT.
Step away from the challah, Tzipi!
You think those are sweet?
Isn't there a discount for amicable politicians?
All together now!
How much is this photo op costing me again?
We're FUN. Don't we look like FUN?
March 12, 2015, 2:45pm
Knesset Members from Israeli Arab parties announce a joint list in Israel's election / Getty Images
"Bibi, Buji, Zehava and Issawi: All of the Jews are the same," noted leaders of the Arab Balad party at a recent executive meeting.
Balad Party activists are willing to lump together Netanyahu with Meretz Chairwoman Zehava Gal-On, who supports the Arab Peace Initiative and the division of Jerusalem. Even more offensive is the derision expressed toward Arab MK Issawi Frej of Meretz merely because he joined a Zionist party, despite being left-wing and promoting Palestinian statehood.
The Balad Party's mentality is representative of a larger problem within the Joint Arab List: the refusal to sit in a coalition led by Labor. Despite the Joint Arab List's animosity toward Netanyahu and his settlement policy, such actions will only guarantee that Likud will continue to rule Israel during the next term.
Despite relatively promising numbers with Labor leading in many polls, Herzog will have an exceedingly difficult time forming a coalition following the elections. Shas's Aryeh Deri announced that he will support Netanyahu and Avigdor Lieberman emphasized that he won't join a leftist government. In the current formulations, it looks nearly impossible for Herzog to build a coalition with such diverse and conflicting partners.
But with the Arab party's growing popularity — it's now the third largest Knesset party with 12-13 seats according multiple recent polls — the dynamics could change. If the Arab party were to join Labor, Meretz, Yesh Atid and Kahlon's Kulanu, the left wing would have the strength to depose Netanyahu and form an alternative coalition.
Unfortunately, the Arab party has repeatedly rejected any future willingness to sit in a coalition led by Labor, with Arab MK Jamal Zahlaka calling the Zionist Union a second-rate Likud.
March 12, 2015, 12:50pm
Rotating campaign billboard shows Netanyahu and Labor Party leader Isaac Herzog / Getty Images
No one even dared speculate about it before. Only now, less than a week before they go to the polls on March 17, Israelis are finally allowing themselves to seriously consider the possibility that Prime Minister Benjamin Netanyahu might actually lose this election.
Depending on who they are, the prospect fills them with elation or dread. Either way, it feels surreal.
For the whole of this short and dizzying election campaign, the possibility that Netanyahu could go down has been viewed as incredibly far-fetched. After all, it was Bibi himself who ended his previous government and set the ball rolling for new elections. Why in the world would he do such a thing if he didn't have utter confidence in his victory? The purpose of early elections, only halfway through his term, was to strengthen his hand: a stronger Likud with more reliable coalition partners would make the country more governable, he reasoned.
If Netanyahu had possessed a crystal ball back in December and could have foreseen the latest poll numbers, he might have thought twice before making such a move. The Zionist Union led by Isaac Herzog and Tzipi Livni is now projected in multiple polls as pulling ahead of Likud by three to five seats, and some of the centrist and religious parties are publicly winking in their direction, while turning a colder shoulder to the Likud. This very well might give Herzog and company the first crack at putting together a ruling coalition.
And so for the first time, Israelis dare to ask themselves: "What happens if Bibi loses?"
March 11, 2015, 12:40pm
Getty Images
(JTA) - Sending a yarmulke-wearing man out with a hidden video camera to document anti-Semitism on the streets of Europe, particularly in Muslim neighborhoods, is quickly becoming a journalistic trope.
First, in January, a reporter wearing a kippah walked around the heavily Muslim neighborhood of Malmo, Sweden, where he was assaulted and cursed at. Next, in February, an Orthodox Jewish journalist walked through the streets of Paris, where he was taunted and intimidated, as shown in a video recording. (A Muslim man's similar experiment in Milan in February, in which he wore a traditional Muslim outfit; and carried a Koran, also garnered discriminatory comments from passersby.)
Either to respond to or trump these examples, British tabloid the Daily Mail deployed an entire team of kippah-wearing reporters to multiple European countries. The results were mixed.
The worst report of anti-Semitism reported by a kippah-wearer in the Daily Mail occurred in England. Jonathan Kalmus, who has written for England's Jewish Chronicle magazine, was spit on and yelled at on the streets of Manchester and Bradford, two midsize cities with sizable Muslim populations. British Prime Minister David Cameron, Labour party leader Ed Miliband, a spokesman for the Board of Deputies of British Jews, and the Labour parliament representative for Manchester central all responded in the Daily Mail to Kalmus' account. Cameron said "There are no excuses for the shocking anti-Semitism revealed in this report" and Miliband said "We need to renew our vigilance and ensure every family of every faith can be secure in our country."
March 10, 2015, 12:30pm
All photos by Daiva Repečkaitė
"Lithuanian fascists march beneath swastikas near execution site of 10,000 Jews."
When this recent headline appeared in the Jerusalem Post and a few other outlets, it reminded me of the time I'd casually thrown the "fascist" label into an email exchange with classmates. "We can meet in the center after the fascist march is over," I wrote.
One of the classmates reacted very sensitively. After a series of insults, she wrote, "My family did not suffer in [Soviet forced labor camps in] Siberia for me to have to listen to this. You don't know any of these marchers, but I do."
Confused about my young classmate's emotional defense of such people?
So was I.
But speaking to a few participants at this year's Independence Day march in Kaunas (Lithuania's second-largest city) helped make clear that those who attend these marches don't typically see themselves as haters.
For many, the "spontaneity" and "youthfulness" of the demos overtake the impulse for critical thinking; unless prompted, they will go without reflecting on the exact slogans — like "Lithuania for Lithuanians!" — of the demonstration.
March 9, 2015, 2:25pm
Facebook
I talked over the weekend with a longtime friend – a committed Jew, active in Jewish communal life, and a strong supporter of Israel. He calls himself an independent but votes mostly Republican. On U.S. President Barack Obama, he is wary and reserved; he voted for him once but for his opponent the other time. And my friend is very, very worried about the threat that Iran poses to Israel's security.
When I asked for his thoughts on Prime Minister Benjamin Netanyahu's speech, I was taken aback by his reaction. He was angry; furious, in fact. He saw the speech as a wildly inappropriate orgy of Obama-bashing. As an American, he was offended – and worried. Had it ever happened before, he asked, that a foreign leader spoke to our Congress and launched a direct attack on the American administration? I told him that, to the best of my knowledge, it had not.
A couple I know with more or less the same Jewish commitments and political views responded similarly. They had watched the speech and felt that members of Congress were being bullied by a foreign leader. True, the leader in this instance was from a place they love dearly, have visited often, and advocate for vigorously. And yes, they are concerned about the dangers posed by an Iranian bomb. But Netanyahu's high-handed reprimand seemed out-of-place to them and the adoring responses more political than sincere. They saw the whole spectacle as an affront to American dignity. An American Congress with any self-respect, they said, should not tolerate being lectured in this manner.
And these were the Republicans.
March 9, 2015, 1:35pm
Getty Images
In his speech to the U.S. Congress, Israeli Prime Minister Benjamin Netanyahu effectively made the case that the emerging nuclear deal with Iran is a "very bad deal." But we would say that's actually a polite understatement; Netanyahu didn't go far enough. This is a dangerous deal — not only for Israel but for the entire region, the U.S. and the world.
According to media reports, Iran would reduce the number of centrifuges in operation to about 6,000 and its capacity to "breakout" of its treaty obligations and develop a bomb's worth of weapons-grade uranium would be set back to one year.
Let's say for the sake of argument that one year is enough time to respond to an Iranian rush to a bomb and we can live with that. Sounds good, right? After all, their current breakout capacity is about two months. We're told that Iran's nuclear program is being rolled back to the point that it will no longer pose an imminent danger to the security of America and its allies. So where's the problem?
March 9, 2015, 9:07am
(Reuters) — Israelis will vote in a parliamentary election on March 17, choosing among party lists of candidates to serve in the 120-seat Knesset.
No party has won a majority of seats since Israel's first election in 1949. Here are 7 questions and answers about the vote and what sort of coalition negotiations could emerge:
1) WHAT HAPPENS AFTER POLLS CLOSE?
Israel's three major television stations broadcast exit polls when voting ends at 10 pm (2000 GMT), estimating how many parliamentary seats each party has won, and then the coalition calculations begin.
2) WHO'S AHEAD IN OPINION POLLS?
On the face of things, it's a tie between the two main parties: Prime Minister Benjamin Netanyahu's right-wing Likud and the center-left Zionist Union led by Isaac Herzog and Tzipi Livni. Taking past political affiliations and current policies into consideration, more parties seem likely to favor joining Likud in a coalition.
March 6, 2015, 5:00am
Yermi Brenner
When Yakov Hadas-Handelsman was born in Tel Aviv in 1957 the passports Israel was issuing to its citizens still bore the inscription "Valid to any country except Germany."
Today, Hadas-Handelsman is the Israeli ambassador to Germany. He devotes much of his time to nourishing and deepening the relationship with the German nation, which has become Israel's closest ally in Europe.
This year, Israel and Germany are marking five decades of diplomatic relations. To commemorate the anniversary, the foreign ministries in both countries are organizing — and funding — dozens of special events and cooperative projects that will take place in Israel and in Germany throughout 2015. When ambassador Hadas-Handelsman and German President Joachim Gauck launched the anniversary celebrations at the Berlin Embassy, Gauck said the two countries "will work together to ensure that our special, friendly relations continue to deepen."
But the warm intentions tell only part of the story. Led by Chancellor Angela Merkel, the German government has repeatedly criticized Israel's policies in the West Bank, and recent public opinion polls in Germany revealed growing criticism of the Israeli government. In a survey conducted by Bertelsmann Stiftung, a not-for- profit research foundation, 41% of respondents agreed either partly or in full that Israel's policy towards Palestinians today is essentially the same as those of Nazis towards Jews.
The Forward's Yermi Brenner spoke to Hadas-Handelsman in the Israeli embassy in Berlin to discuss Israel's relations with Germany in today's international landscape.
Yermi Brenner: Why is it important for Israel to have the support of the German government and of German people?
Yakov Hadas-Handelsman: Today, Germany is a leading economic superpower and is gaining more weight when it comes to worldwide policy or diplomacy, so [its support] is always essential, especially for a state like Israel. Germany is committed to its special responsibility towards the Jews and towards the State of Israel because of the past. As Chancellor Merkel said seven years ago, when she had a speech in the Knesset: "Israel's security is part of the German national interest." But Germany is an ally of Israel not only because of the past. Germany and Israel share a lot when it comes to values, when it comes to the way we analyze the world and especially the situation in the Middle East. We see many things eye to eye, or almost eye to eye. Therefore, it is important for us to continue these relations.
March 5, 2015, 4:30pm
Ultra-Orthodox rabbis gather to condemn the internet in 2012 / Josh Nathan-Kazis
A Forward tipster texted us this morning to report an odd spam message he'd received on his phone. Sent from a Spanish phone number, the spam read: "Check out WhatsApp Messenger for your smartphone. Hasidic friendly! Download it today…"
Last year, I reported that the ultra-Orthodox had gone wild over WhatsApp, a messaging app purchased by Facebook for $19 billlion.
"I'm sick and tired of it a little bit," Lipa Schmeltzer, the Hasidic pop music star, told me at the time. "It's not an easy task, to keep up with all these messages."
Now, it seems like WhatsApp itself is catching up to its ultra-Orthodox appeal. The company does not list a press contact on its website, and the Forward has not yet been able to confirm that the ad was actually sent by WhatsApp itself. The download link, however, is genuine.
The ad is phrased oddly, which perhaps should not be surprising for a spam text message. The "Hasidic friendly!" boast uses the adjective "Hasidic" as a noun, suggesting limited familiarity with the term's usage.
WhatsApp's appeal for the ultra-Orthodox lay in how it allowed users to get around communal bans on unfettered internet. The service's group text functions are used as a sort of closed social network by Hasidic Jews.
As early as January 2014, however, rabbis were cracking down on the service. A Satmar newspaper in Brooklyn ran a headline that month warning: "The rabbis overseeing divorces say WhatsApp is the No. 1 cause of destruction of Jewish homes and business."
The next month, a filtering service affiliated with Satmar blocked photo and video sent through WhatsApp.
March 5, 2015, 1:00pm
A Muslim girl blows bubbles at an Eid celebration / Getty Images
All across New York City, Muslims are cheering Mayor Bill de Blasio's decision to close public schools on the two holiest days of their religious calendar. And Jews should be cheering right along with them.
Why should we be happy to see the city observe Eid al-Fitr and Eid al-Adha, days that commemorate the end of Ramadan and the biblical Abraham's willingness to sacrifice his son, respectively? No, it's not because that means we Jews will also get a hall pass. It's because we fought and won this battle long ago — and our win should be used to help, not harm, others in a similar situation.
New York City public schools decided to observe two of our holidays, Rosh Hashanah and Yom Kippur, way back in 1960. That means that we've been enjoying the benefits of this recognition for a full 55 years.
If you're wondering why recognition for Muslims has lagged so far behind, your first thought might be: Islamophobia. And you'd be right. Discrimination against Muslims is a powerful force in post-9/11 America — especially now that terrorism wrought by Islamic extremists in the Middle East and Europe dominates the headlines. That discrimination has a powerful impact on our policies, and it's been fueling the protests against de Blasio's plan to recognize Muslim holidays for months.
March 4, 2015, 5:30pm
You haven't seen Bibi's speech until you've seen it like this.
Noy Alooshe, the Israeli remix king best known for his 2011 "Zenga Zenga" spoof, has outdone himself with a remix of his prime minister's speech to Congress.
In the video, Bibi bosses around the audience members like they're little kids, issuing alternating commands of "Sit!" and "Stand!" — a reference to a Hebrew children's song ("Ooga Ooga Lashevet Lakum"). He wins countless standing ovations with his constant refrain of "Iran! Bomb! Iran! Bomb!" And his juxtaposition of "Iran" and "Haman" seems to be a real crowd-pleaser, too.
Meanwhile, Jewish Home leader Naftali Bennett watches the livestream on TV, happily lapping up this show of American pageantry. Whenever he flips the channel, we get snippets of Yesh Atid leader Yair Lapid yelling "Yalla be-Karchana!" — loose translation: "Party hard!" — and of Meretz leader Zahava Gal-On flouncing around in her cringe-worthy campaign video. Both of these politicians look ridiculous — like flighty and superficial teenagers — by comparison to Bibi, who's all gravitas and scare tactics and feathery blue-white hair.
In between references to "Game of Thrones," "Google" and the Ayatollah's "tweets," Bibi's got Barack Obama and Joe Biden running laps. They look, well, like little lap dogs…and the total effect is pretty amazing.
Just try dancing to it!
March 4, 2015, 1:40pm
When Benjamin Netanyahu spoke to Congress about the dangers of a nuclear Iran, he couldn't resist drawing a parallel to that other time Jews were threatened by a "Persian potentate." (Extra points for vocab, Bibi!)
We, in turn, couldn't resist imagining the entire Purim story recast in Bibi terms.
Before the fun, the facts. Here's a refresher on what the Israeli prime minister said:
In our nearly 4,000 years of history, many have tried repeatedly to destroy the Jewish people. Tomorrow night, on the Jewish holiday of Purim, we'll read the Book of Esther. We'll read of a powerful Persian viceroy named Haman, who plotted to destroy the Jewish people some 2,500 years ago. But a courageous Jewish woman, Queen Esther, exposed the plot and gave for the Jewish people the right to defend themselves against their enemies. The plot was foiled. Our people were saved.

Today the Jewish people face another attempt by yet another Persian potentate to destroy us. Iran's Supreme Leader Ayatollah Khamenei spews the oldest hatred, the oldest hatred of anti-Semitism with the newest technology. He tweets that Israel must be annihilated — he tweets!
And now, we hope you enjoy these humble e-cards. Click on each one individually to share with your friends and spread the holiday cheer!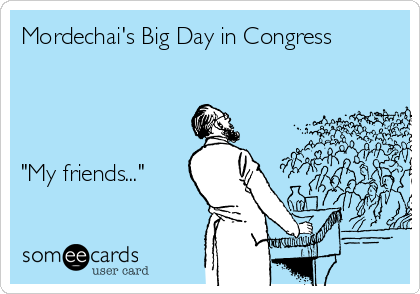 March 3, 2015, 4:00pm
House Democrats listen to Netanyahu's speech / Getty Images
As the echo of the sustained ovations that greeted Israeli Prime Minister Netanyahu's speech to a joint session of Congress began to fade, Democratic apologists for the Obama administration had a problem. For several weeks, the White House succeeded in focusing attention on the question of the alleged breach of protocol and partisanship that they claimed the invitation to Netanyahu represented. But once the address was actually delivered by the prime minister, this spin on events passed its expiration date.
Faced with Netanyahu's powerful arguments explaining why an Iran deal predicated on a series of Western retreats would be a disaster, the White House and the rest of the president's cheering section need to find a way to defend positions that have discarded the president's past pledges to end Iran's nuclear program. But, instead, they are reverting back to last week's talking points. It won't work.
Netanyahu laid out a cogent analysis of why a deal that leaves Iran in possession of its nuclear infrastructure and will eventually expire is an invitation for more Iranian cheating. But even if you believe that the U.S. has the sort of intelligence that would enable it to detect a nuclear breakout in time, the sunset clause that President Obama has discussed means, as Netanyahu pointed out, that even in the unlikely event that the Islamist regime abides by its terms, the deal may still lead to a nuclear Iran.
Moreover, contrary to his critics, Netanyahu did offer a realistic alternative to Obama's strategy of negotiation by capitulation. By returning to the path of tough sanctions (strengthened by the Kirk-Menendez bill now before Congress) that the president prematurely abandoned in 2013, there is a chance that the regime can be forced to negotiate terms that are consistent with the president's 2012 campaign promises. The president seems more intent on building a new détente with a terror-supporting, anti-Semitic regime bent on regional hegemony than in using the leverage he discarded.